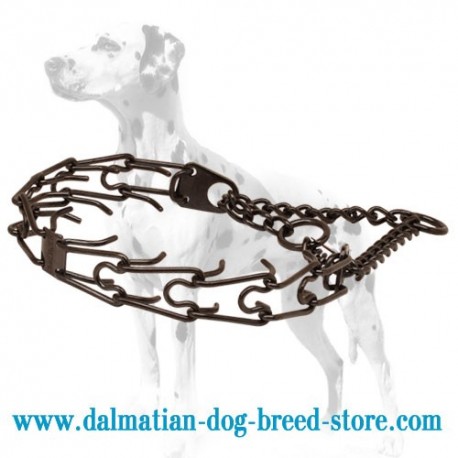 View larger
'Trendy Black' Dalmatian Dog Pinch Collar
HS75#1045 50004 010 57 3.2 mm Pinch Collar
New product
In stock
Warning: Last items in stock!
Availability date: 01/01/2015
More info
Ultra-Fashionable Dog Pinch Collar for Dalmatian
Do you think it's impossible for a training dog collar to be fashionable at the same time? The presented Dog Pinch Collar of Amazing Design dispels this stereotype! This stainless steel prong collar is now available in black! Aside from its trendy look, black color also has an important practical feature. When worn in the bright sun, the collar won't reflect sunbeams unlike stainless steel collar without black covering.

It is an excellent dog supply for obedience training. Evenly arranged links with inside prongs perform educative function when you try to make your pet obey your commands.
Click on the pictures to see bigger image
Key features of this Dalmatian Dog Pinch Collar:

Strong, non-deforming steel
Rustproof
Evenly aranged links
2 O-rings for leash clipping
Premiun quality
Trendy design
Black covering to avoid excessive sun reflection

Intended use of this Dalmatian Dog Pinch Collar:

Obedience training
Behavior correction

Dimensions:

23 inches (58 cm) in length
Prong's diameter - 3.2 mm (1/8 inch)

Material:
Click on the pictures to see bigger image
How to measure your Dalmatian for well-fit prong collar:

The size of the presented Black Pinch Dog Collar is 23 inches (58 cm). In case your dog's neck circumference is above this dimension, there's an opportunity to order an additional link to add 1 2/5 inches (3.5 cm) to the total collar length. Herewith, if your dog's neck is smaller than the abovementioned size, you can remove one of the links with the help of pliers - it's easy!

Safety measures:
- It is important not to leave the dog without your supervision when he/she is wearing a prong/pinch collar.
- To put this collar on your dog unfasten one of the links and never try to put the item through the dog's head.
- Be sure the collar perfectly fits your pet. You dog should feel comfortable when wearing it.
- If you aren't experienced in dog training, please consult a professional dog trainer before using this pinch collar.