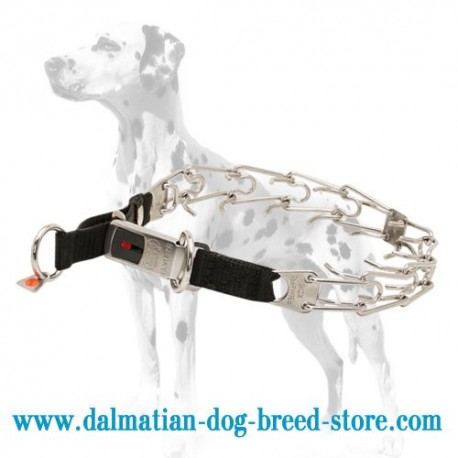 View larger
New Design Dalmatian Dog Pinch Collar with Click-Lock Buckle
HS71#1045 50026 10 (55) 3.2mm Pinch collar with click lock and nylon loop
New product
In stock
Warning: Last items in stock!
Availability date: 01/01/2015
More info
Stainless Steel Dog Pinch Collar for Dalmatian
Do you think a usual chain choke collar is too strict for your dog? Are you in search of its quality substitute for successful obedience training? Choose this excellent prong collar made by famous Herm Sprenger! This training tool is already approved by millions of dog trainers due to its sturdiness, easy use and influence it has on dogs.

Special inside prongs are rather thick not to injure the pet and serve as a mother dog's teeth: when a dog disobediently pulls, the collar's prongs "bite" his/her neck, and the pet has to obey. This collar is considered to be one of the most humane ones since its influence is close to the natural.
Click on the pictures to see bigger image
Key features of this Dalmatian Dog Prong Collar:

Strong, non-deforming steel
Nice design
Rustproof
Hypoallergenic
Strong connection between the links
2 rings for lead attachment
Quick-release buckle
Red tag that proves quality

Intended use of this Dalmatian Dog Prong Collar:

Obedience training
Safe walking

Sizes available:

21 inches (52 cm)
Prong's diameter - 3.2 mm (1/8 inch)
Weight - 7 oz (200 g)

Material:
Click on the pictures to see bigger image
How to measure your dog to get an appropriate size of this Prong Collar:

The size of the presented collar is 21 inch (52 cm). If your dog's neck circumference is more or less than this size, you can order an additional link in the drop-down box or simply remove one to make the collar shorter. Each link is 1 1/3 inch (3.2 cm).

Safety measures:

- Never leave your dog unattended, when he/she is wearing a prong collar!
- Make sure the collar fits your dog properly, it should be neither too loose nor too tight.
- Consult a professional dog trainer before using this pinch collar, especially if you lack experience in the matter.