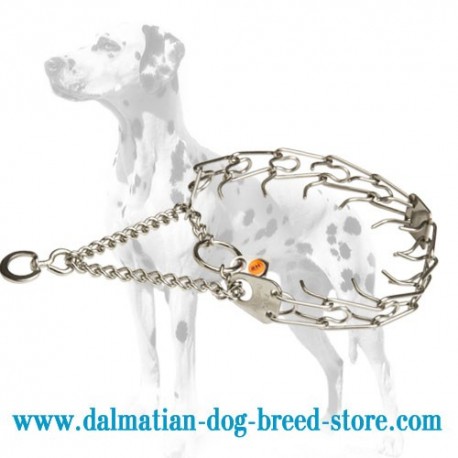 View larger
New Stainless Steel Dalmatian Dog Pinch Collar
HS63#1045 50135 010 (55) Pinch Collar 2.25mm
New product
In stock
Warning: Last items in stock!
Availability date: 01/01/2015
More info
Stainless Steel Dog Pinch Collar for Dalmatian
Looking for an effective way to train your dog obedience? This pinch collar definitely suits your needs! High quality non-deforming stainless steel means great reliability at any training level. The collar has inside prickles that imitate dog's teeth. So its influence is very close to the natural: when a pup did something wrong, a mummy-dog used to bite his/her neck to give some obedience lessons.

This dog prong collar is Number One item among professional dog equipment. High level of reliability, fast results and easy use - it's all about this great prong collar!
Click on the pictures to see bigger image
Key features of this Dalmatian Dog Pinch Collar:

Strong, non-deforming steel
Nice design
Rustproof
Red tag that proves quality

Intended use of this Dalmatian Dog Pinch Collar:

Obedience training
Safe walking

Sizes available:

16 inch (41 cm)
Weight - 2.8 oz (80 g)

Material:
Click on the pictures to see bigger image
How to measure your Dalmatian for well-fit collar:

This Pinch Collar size is 16 inches (41 cm). If your dog's neck circumference is more than this size, you can order an additional link that will add 1 1/5 inch (3 cm) to the collar length. The links are easy to add or remove with the help of pliers.

You can also order Nylon removable protector for this collar, which:
- reduces contacts with water;
- protects from excessive light reflection;
- makes the collar less noisy;
- changes its overall look.

Tips on safety:
- Unhook one of the links when putting the collar on your dog and never try to put it over the dog's head.
- Please, never leave your dog unsupervised when he/she is wearing a Prong Collar!
- Make sure this pinch collar fits your dog well: neither too loose nor too tight.