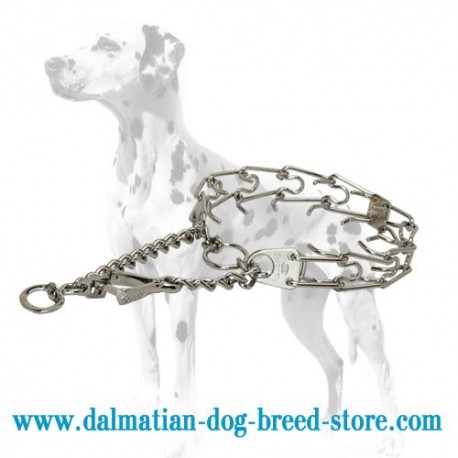 View larger
Dalmatian Dog Pinch Collar Made by Herm Sprenger
HS32#1045 50116 (02) (3.00) Collar with swivel
New product
In stock
Warning: Last items in stock!
Availability date: 01/01/2015
More info
Dalmatian Dog Pinch Collar with Quick-Release Snap Hook
Do you want your dog to always obey you? Looking for the best ways how to teach your pet to always walk beside you? This Herm Sprenger Pinch Collar will surely help you! It is made of strong, corrosion-resistant steel and has evenly arranged links from the inside. Such a collar is a great supply for behavior correction as its influence is close to natural: when the dog disobediently pulls the leash, the collar "bites" his/her neck just like mother-dog used to do in the dog's puppyhood.

This Pinch Dog Collar is 21 inch (53 cm) long with prongs diameter - 3.00 mm (1/9 inch). In case if your pet's neck circumference is bigger or smaller than this size, it's easy to adjust the collar by means of adding or removing 1-2 links. Order the additional link in the drop-out box.
Click on the pictures to see bigger image
Key features of this Dalmatian Dog Pinch Collar:

Welded swivel
Easy to handle with
Extra strong
Scissor-type snap hook
"HS-Germany" stamp on the swivel

Intended use of this Dalmatian Dog Pinch Collar:

Obedience training
Safe walking

Sizes available:

21 inch (53 cm)
prong's diameter - 1/9 inch (3 mm)

Material:
Click on the pictures to see bigger image
This Dog Pinch Collar is made of chrome-plated steel - a new technique electroplating a layer of chromium onto the steel. This provides excellent rust-resistance and superb strength. Therefore, the collar doesn't get deformed under big pressure. The presented collar will definitely serve you for a great while.

The collar has some advantages over the other collars of the kind. There's a quick-release scissor-type snap hook, which is very easy to use and also very much reliable. This snap hook withstands hard pulling - so you can rely on it at any crucial moment.

NOTE! You can also order nylon removable protector for this Dog Prong Collar that:

- Reduces contact with water;
- Protects from excessive light reflection;
- Makes the collar less noisy;
- Makes the collar's look like a regular one.