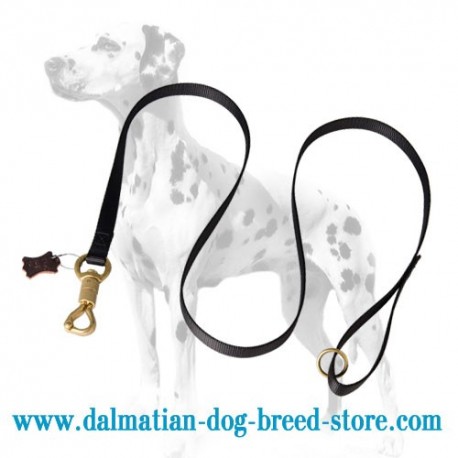 View larger
'Smart Lock' Dalmatian Dog Leash of Nylon
L99##1045 Nylon leash with brass snap with smart lock
New product
In stock
Warning: Last items in stock!
Availability date: 01/01/2015
More info
Easy-to-Care Nylon Dog Leash for Dalmatian
Do you want to purchase a cheap and long-servicing leash, which doesn't need a complicated maintenance? The dog lead presented on this page would be exactly the right choice! Made of strong nylon, the item is very dependable and serviceable. You can use it in any weather – no matter if there's rain, snow or fog. Massive "smart" latch hook is easy to attach to the dog's collar or harness. Moreover, this kind of snap is more reliable than a usual one and won't unclasp at a crucial moment.
Click on the pictures to see bigger image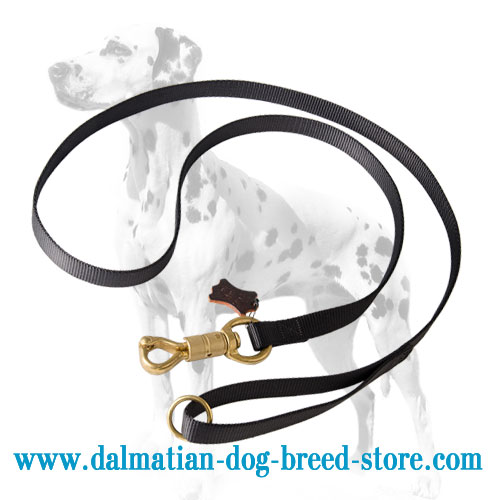 Dalmatian dog lead of strong nylon with "smart" snatch hook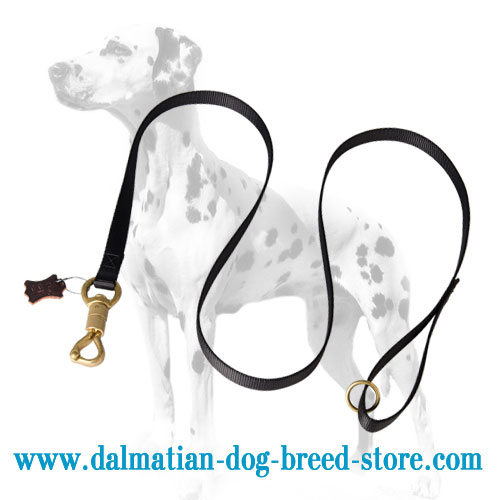 Dalmatian dog nylon lead with brass latch hook
Key features of this Dalmatian Dog Leash:

Made of strong nylon
Brass "smart" latch hook
Stitched
3/4 inch wide
Floating O-ring on the handle

Intended use of this Dalmatian Dog Leash:

Walking
Training
Tracking
Patrolling

Sizes available:

Available colors:
The main advantages of this Dalmatian Dog Leash:
1) Nylon material is the basis of this dog leash. It is very practical since it withstands pulling loads and does not get spoiled when contacted with water.
2) The product is equipped with a large snap hook. It is easier to use and saves your time when attaching it to your dog's collar.
3) There's also a floating O-ring on the handle which serve for another leash attachment to make this one longer.
4) All the hardware is rustproof as it is made of solid brass. This alloy also looks rich and expensive – just like real gold!