More info
Extra Strong Dog Tracking Leash for Dalmatian
Do you need a reliable leash for dog tracking? This one will definitely be your favorite! As it is made of nylon, you are able to walk your dog, whatever the weather is outside! Nylon is also extremely stretch-proof and features unbelievable strength. This material is super long-servicing and low-priced, so it is a great offer for the most practical dog handlers.
Click on the pictures to see bigger image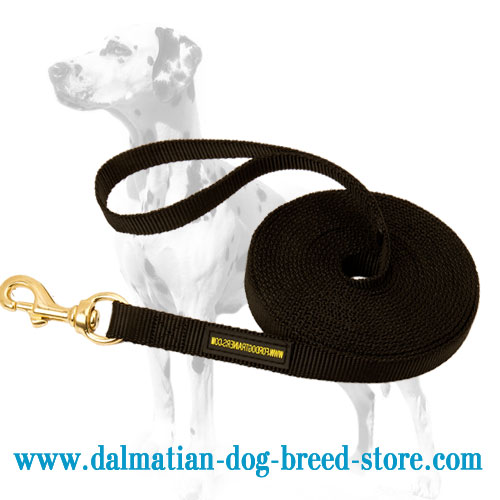 Dog lead of 2-ply nylon for tracking and search operations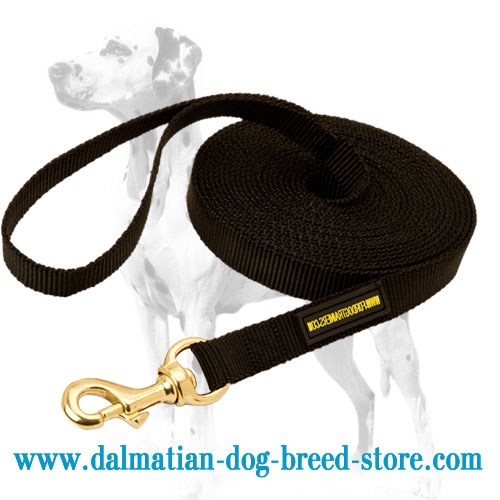 Dalmatian dog lead of nylon for tracking
Key features of this Dalmatian Dog Leash:

High-quality nylon
Solid brass fitting snap hook
Suitable for any weather
Corrosion-resistant hardware

Intended use of this Dalmatian Dog Leash:

Training
Tracking
Patrolling

Sizes available:

13 ft (4 m)
20 ft (6 m)
27 ft (8 m)
33 ft (10 m)

Available colors:
The advantages of this Dalmatian Dog Leash:

This leash is one of the most practical ever! It is strong, perfectly keeps its color, doesn't stretch and resistant to water and humidity.

There are 4 sizes available for this leash – from 13 ft up to 33 ft – so depending on the activity you are planning to conduct with this leash you can choose the most appropriate size. You should also notice that even the shortest size (13 ft) is excellent for professional tracking as well as for rescue and search operations.

The snap hook of this leash is made of brass that looks bright and won't cover with corrosion. Low price is also one of the advantages of this leash compared with others.