More info
Strong & Reliable Triple Coupler for Dalmatians
Have you got three dogs? Do you need something to walk them at once? The presented Triple Coupler is a great leash adapter that allows tangle-free walking of three dogs. You can use it when walking your pets in any busy place in town. It is strong and reliable and has a perfect length that gives the dogs enough freedom to move. The clasps are reliable and solid, and they won't unhook at a crucial moment.
Click on the pictures to see bigger image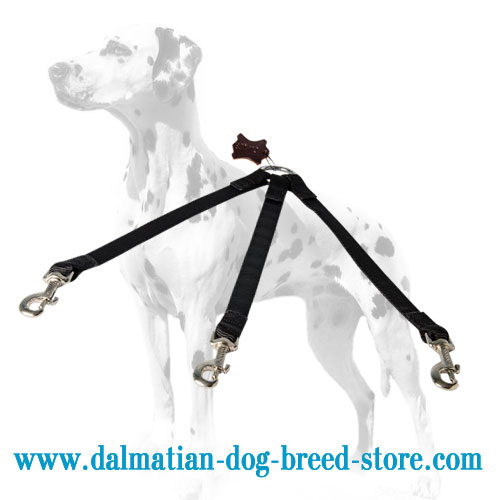 Dalmatian dog triple coupler with nickel-plated hardware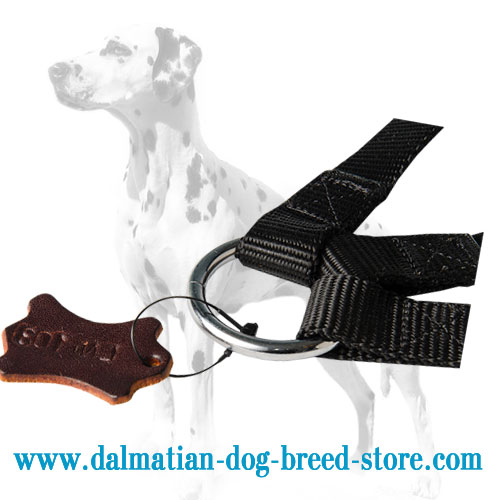 O-ring of Dalmatian triple coupler, rustproof
Key features of this Dalmatian Dog Triple Leash:

Made of nylon
Nickel-plated fittings (rustproof)
Stitched
3/4 inch wide
O-ring for the usual leash
Water-resistant

Intended use of this Dalmatian Dog Triple Leash:

Sizes available:

Available colors:
This triple leash is produced of strong nylon. It is really easy to care for, and it will definitely serve you for years. The item is light weight and very sturdy. 3 nylon straps are connected together with the O-ring, which serves for the usual leash attachment. The clips are just the right size for easy getting hooked and unhooked. These clips together with the O-ring are made of nickel-plated steel. Therefore, they are resistant to rust and will stay shiny for a long time.