More info
Nylon Dog Lead for Dalmatian with HS Snap Hook
Would you like to handle your dog comfortably and safely? This Anti-Rubbing Dog Leash would be a perfect choice! Strong nylon will never tear even at the hardest training sessions, and you can grab the item strongly without any cutting feelings on your palms: stitched handle with leather support material helps you avoid rubs and calluses. There is also a special Herm Sprenger's snap hook, which stands out among the others due to its better reliability: it won't unlock at a crucial moment!

Modern design, low price, high quality and easy maintenance – all these features make this dog leash very attractive for the customers.
Click on the pictures to see bigger image
Dog lead of nylon with HS snap hook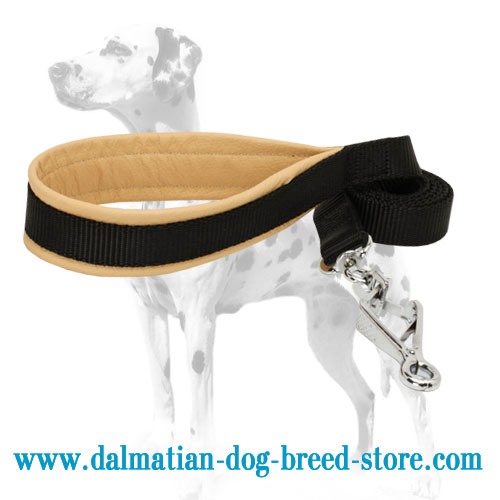 Dalmatian dog leash with reliable snap hook
Key features of this Dalmatian Dog Leash:

Strong 2 ply nylon
3/4 inch wide
Leather padded on the handle
Herm Sprenger's snap hook
Stitching on the handle
Multifunctional

Intended use of this Dalmatian Dog Leash:

Training
Walking
Tracking
Patrolling

Sizes available:

4 Ft (120 cm)
6 Ft (180 cm)

Available colors:
The leash is made of nylon – material, well-known for its strength and stretch-resistance. Simple design and great practicability are meant for the most practical dog handlers, who want the leash to be durable, long-servicing and multifunctional. 4 and 6 Ft long, the item is perfect for tracking, training, patrolling as well as for simple walking.

HS snap hook ensures extreme safety no matter what your pet is doing. This kind of snap hook is far more reliable than the ordinary ones, and it is also much easier to use: it takes you almost no time to clasp it or unclasp when getting ready for walks.