More info
Nylon Dog Leash for Dalmatian with Support Leather Material on the Handle
Are you dreaming of getting the leash that would not rub the palms? Do you think this dream can't come true? Check this nylon dog leash and make sure that the leash can be not just strong, but also very comfortable for the handler.

This 'No Rubbing' Dalmatian Dog Leash is made of strong nylon which doesn't stretch or tear, and is equipped with soft handle. Leather support material provides you with "anti-rubbing" effect, so you won't feel any discomfort when your pet is pulling hard.
Click on the pictures to see bigger image
Dog leash, 4 and 6 ft long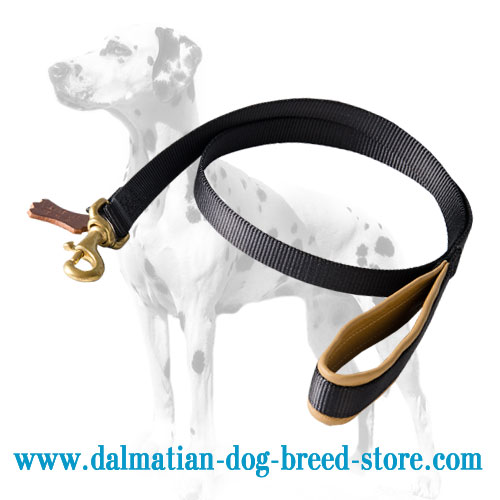 Dalmatian leash with corrosion-proof hardware
Key features of this Dalmatian Dog Leash:

100% dog friendly materials
Strong 2 ply nylon
Solid & rustproof fittings
Multifunctional

Intended use of this Dalmatian Dog Leash:

Tracking
Patrolling
Training
Walking

Sizes available:

6 ft (180 cm)
4 ft (120 cm)

Available colors:
This leash is made of nylon which possesses such great characteristics like color fastness, extreme strength, water- and stretch resistance.

The brass snap hook looks like gold – it is lightweight, strong and corrosion resistant!

What makes this leash the most advantageous is its handle, leather padded from the inside to protect your palms from calluses and rubbing. It is the best choice for tracking, patrolling and walking for hours.