More info
Fray Resistant Nylon Dog Leash for Dalmatian
Do you want to buy a strong, reliable and easy to use dog leash? Be sure you've already found the best one! As it is made of nylon, the leash features utmost dependability. It can be used in any weather and doesn't need any special treatment to prolong its service life. It is the most practical choice for those who don't want to waste money for unnecessary adornment.

There are 6 rubber lines that allow the handler to grab the leash stronger when needed – it won't slip off in your hands. The generous hand loop is also made for your comfort and safety when walking your large Dalmatian.
Click on the pictures to see bigger image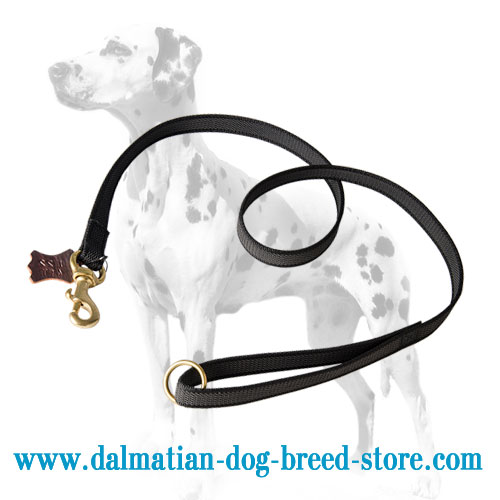 Dalmatian dog lead of nylon, extra durable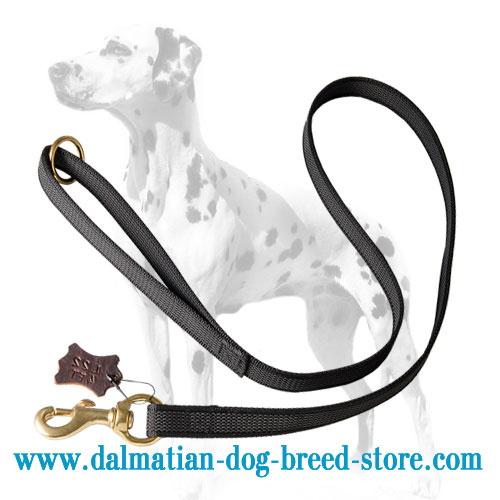 Nylon dog leash for Dalmatian, wide size range
Key features of this Dalmatian Dog Leash:

Made of nylon
Brass fittings (rustproof)
6 rubber lines
Floating O-ring
3/4 inch (20 mm) wide

Intended use of this Dalmatian Dog Leash:

Walking
Training
Patrolling

Sizes available:

2 Ft (60 cm)
3 Ft (90 cm)
4 Ft (120 cm)
5 Ft (150 cm)
6 Ft (180 cm)

Available colors:
The presented leash is extra durable due to the material it is made of. Nylon is fray resistant and waterproof. That means you can walk your dog in any weather not worrying that rain or fog can damage the material.

There is a brass O-ring to attach another lead or to make this one shorter. The snap hook is made of brass, which looks like gold and won't get rusted shortly.

Depending on the activity your dog is involved in, you can order the length of this leash. It is available in size range from 2 up to 6 Ft.