More info
Strong Dog Coupler Leash for Walking 2 Dalmatians
Are you a happy owner of two dogs? It is always great to have 2 dogs. However, it is not always easy to handle both of them. The problem of tangled leashes remains one of the common problems among those who own more than one dog. And we have something really great to offer you!

This Convenient Coupler Leash is created exactly for walking 2 dogs. Using this gear you won't need to buy two leashes and will forget about the inconvenience.
Click on the pictures to see bigger image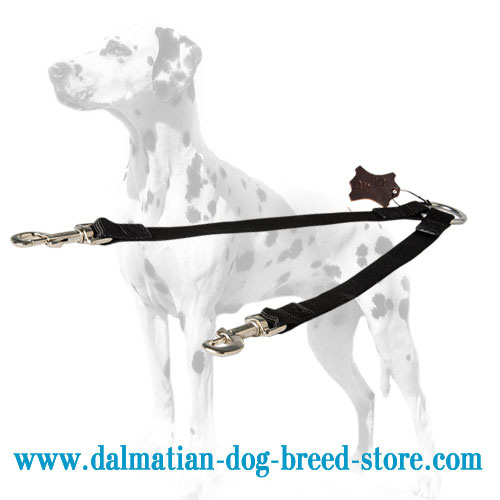 Dalmatian dog coupler of strong nylon, 12 inches long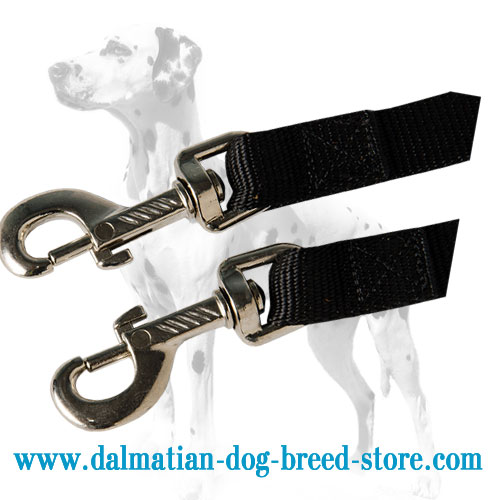 Dalmatian dog nylon coupler, nickel-plated latch hooks
Key features of this Dalmatian Dog Coupler:

Made of strong nylon
2 nickel-plated latch hooks
Stitched
3/4 inch wide straps
O-ring for the usual leash

Intended use of this Dalmatian Dog Leash:

Sizes available:

Available colors:
This dog coupler leash is manufactured of durable nylon material. It is well-known for its strength and durability. It is heavy-duty stitched on stressed locations, so you can be sure the leash won't tear when pulling hard.

Two nylon stripes are coupled with the O-ring for the usual leash attachment. This ring, as well as the latch hook, is made of nickel-plated steel. It has nice silver color and high resistance to corrosion. So both the material and the hardware aren't afraid of humidity, so that you could use the item in any weather.