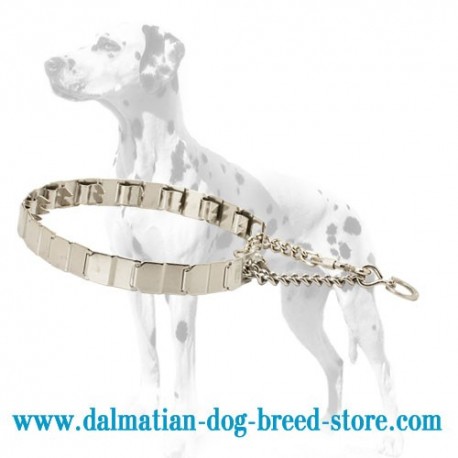 View larger
NEW Neck Tech Dalmatian Dog Pinch Collar
HS74#1045 50155 014 (55) Stainless Steel Neck Tech
New product
In stock
Warning: Last items in stock!
Availability date: 01/01/2015
More info
Stainless Steel Dog Neck Tech Collar for Dalmatian Made by Herm Sprenger
Is it possible to get a stylish dog collar with a training effect? It is! This Neck Tech Pinch Collar by Herm Sprenger is a revolutionary dog supply of superior design and great effectiveness! It is made of interconnected stainless steel links that have internal pinches. When pulling your dog will feel some tingling sensations on the neck which will make him/her obey the Master's orders.

The collar is rust-resistant and has excellent breaking load. If your dog's neck circumference is more than 24 inches (this collar length), you can order an additional link to enlarge its size.
Click on the pictures to see bigger image
Key features of this Dalmatian Dog Neck Tech Collar:

Strong, non-deforming steel
Rustproof
Polished links
2 O-rings for leash attachment
Premium quality
Snap hook with swivel

Intended use of this Dalmatian Dog Nech Tech Collar:

Behavior correction
Obedience training

Dimensions:

24 inches (60 cm)
additional link 1 1/4 inch (3cm)
weight: 9.6 oz (270 g)

Material:
Click on the pictures to see bigger image
This pinch dog collar is super effective for obedience dog training. It will help you to teach your pet such commands like "stay", "heel", "here", "sit", and "whoa". It is also useful to teach your dog walk calmly beside you and obey your orders.

Please note, pinch collars are not to be used on puppies under six months of age. Also, use this collar for training purposes only and never leave your pet unsupervised when the dog is wearing a prong collar.

You can also order special nylon removable protector for this pinch collar:

- Reduces contact with water;
- Protects from excessive light reflection;
- Makes the collar less noisy.

NOTE! You can also order Smaller Size in case this one doesn't fit your dog.