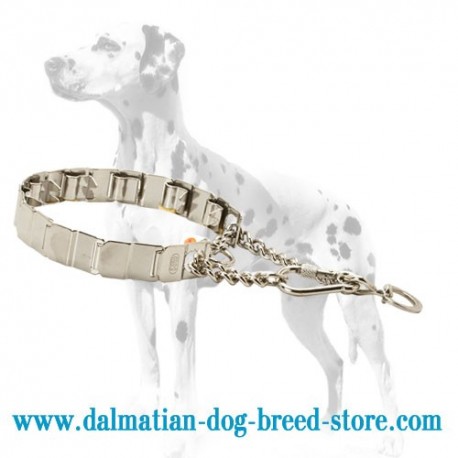 View larger
HS-Made Dalmatian Dog Stainless Steel Neck Tech Collar
HS73#1045 50155 010 (55) Stainless Steel Neck Tech
New product
In stock
Warning: Last items in stock!
Availability date: 01/01/2015
More info
Stainless Steel Dog Neck Tech Collar for Dalmatian Made by Herm Sprenger
Your dog doesn't want to obey you? Pay attention to his professional Neck Tech Dog Collar meant to correct your dog's behavior and bring fast and amazing results! The product is made in Germany and that certainly means it is 100% high quality product. The collar is very easy to use even by non-professionals. Metal links have inside prongs that imitate dog's teeth, making natural impact on a dog. The item suits Dalmatian breed considering its large and massive neck.
Click on the pictures to see bigger image
Key features of this Dalmatian Dog Neck Tech Collar:

Strong, non-deforming steel
Rustproof
Polished links
2 O-rings for leash attachment
Premium quality
Snap hook with swivel

Intended use of this Dalmatian Dog Neck Tech Collar:

Behavior correction
Obedience training

Dimensions:

Material:
Click on the pictures to see bigger image
Stainless steel collars are indispensable if you live in damp or coastal areas. Metal collars can shortly become rusty and lose their shiny look. Stainless steel never rusts and will definitely serve you for a great while. Besides, this kind of metal has great strength: it won't get deformed under your dog's pulling pressure.

The design of this collar model is thoroughly thought out by leading dog experts: it has inner prongs that imitate dog's teeth. When you tug the leash, the collar's prongs prick the dog's neck causing some irritation to the dog and he/she will have to obey the Master.

Steel collars often come with Nylon Removable Protector which you can order in the drop-down box. Here are some reasons for you to buy it:

- to reduce contacts with water;
- to protect from excessive light reflection;
- to make the collar less noisy;
- to make the collar's look like an ordinary walking one.

You can also order additional links if your dog's dimensions are bigger than the collar's size. To adjust the size you'll need pliers and just a few minutes of your time - it's easy!

NOTE! You can also order Bigger Size in case this one doesn't fit your dog.