More info
Short Leather Leash for Dalmatian Control
Do you sometimes need better control over your active Dalmatian? Then you'll definitely like the item offered here! This Pull Tab Leather Dalmatian Dog Leash is only 8 inches long and serves as a "controller" e.g. in public places, when crossing the road or when taking a bus.

Made of carefully selected genuine cowhide, this leash is very strong and promises to serve for a great while.
Click on the pictures to see bigger image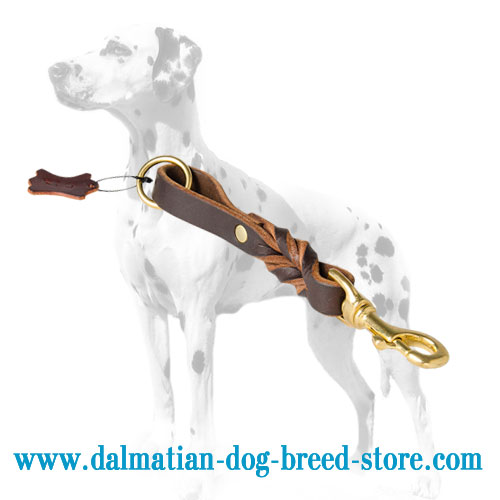 Dalmatian pull-tab lead with brass snap hook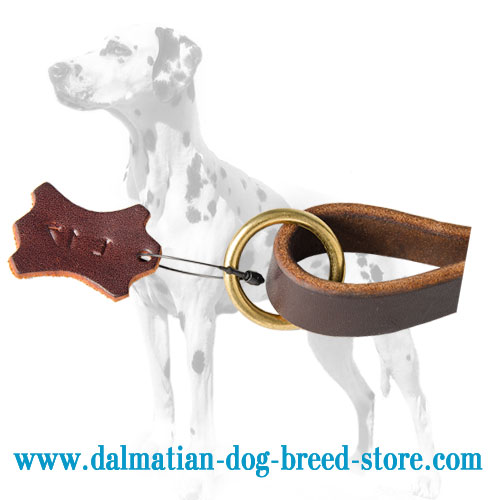 Dog short leash with solid brass O-ring
Key features of this Dalmatian Dog Leash:

High-quality leather
Solid brass snap hook
Extra strong
Corrosion-resistant hardware
3/4 inch wide
Short braids

Intended use of this Dalmatian Dog Leash:

Training
Walking
Better control

Sizes available:

Available colors:
This Short Leather Leash looks nice due to its braided design and noble-looking leather. It is super strong, wear-proof and features utmost durability for years.

Waxed edges prevent skin rubbing and cutting when you pull the tab closer.

Brass fittings are very strong and rustproof. There is also a brass O-ring for the usual leash attachment, so you won't need to take this leash off when you have to attach a longer one.