More info
Short Leather Leash for Dalmatian Control
Do you sometimes walk your Dalmatian off leash and often encounter other dog walkers, cyclists or runners? Having this Short Dog Leash on your pet's collar it will be very easy to keep him close to you any time you need it; and you will not have to clip the usual leash on. This item is long enough to grab quickly and is wide enough to put your hand through.

NOTE! You can also order this leash with padding to exclude calluses when pulling hard.
Click on the pictures to see bigger image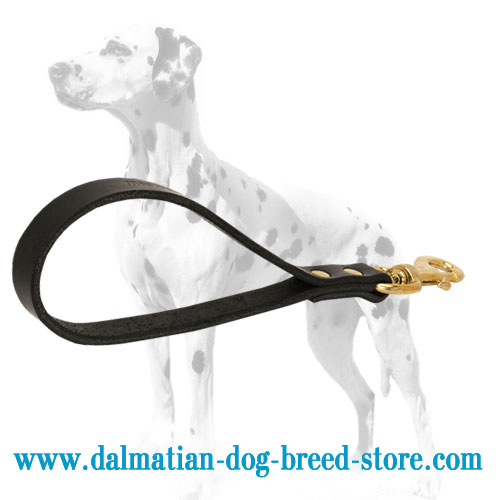 Dalmatian dog short leash of leather, 12 inches long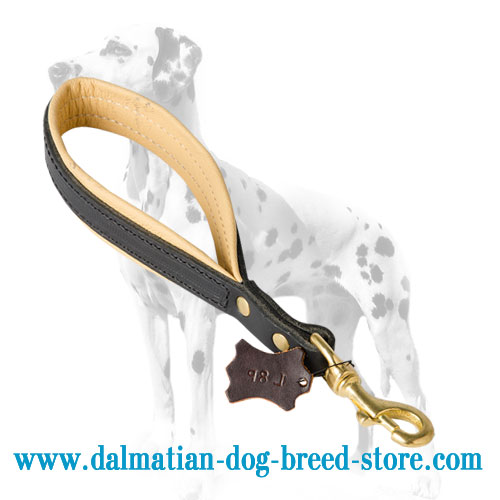 Leather lead for Dalmatian, handle with padding
Key features of this Dalmatian Dog Leash:

Made of leather
Brass snap hook (rustproof)
Riveted for durability
Beveled edges
3/4 inch wide
Support material on the handle (optional)

Intended use of this Dalmatian Dog Leash:

Sizes available:

12 inches long (30 cm) - including snap hook

Available colors:
This dog leash is made of 100% genuine leather. It means this item is serviceable, soft to the touch and extra strong. To upgrade its durability, the leash is riveted in the place of a snap attachment. This snap hook is made of solid brass that is resistant to rust and has shiny aureate color.

The following options are available:
- floating O-ring to attach the usual lead;
- padding on the handle;
- rustproof hardware;
- quick release snap hook.