More info
Functional Dog Leash for Dalmatian with 2 Handles
Are you in search of a leash which would offer your doggie more freedom when walking? We are honored to present this Long Leather Lead, which would certainly provide your pet with it!

This item is made of strong yet soft leather with solid brass hardware. Additional handle will allow you to pull your strong dog closer to you and will provide you with short control over the dog. Each time when you need better control over your dog you just take the handle set near the snap hook and pull your dog closer to you.
Click on the pictures to see bigger image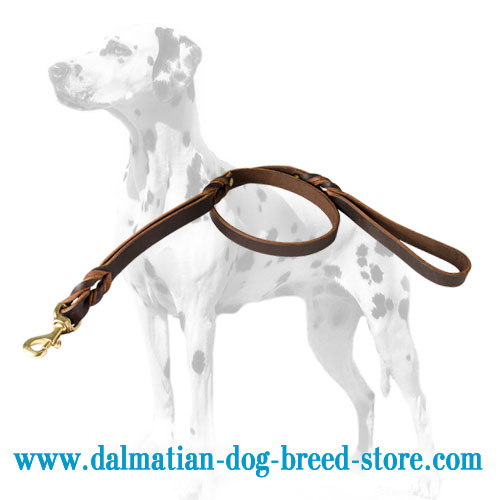 Dalmatian 2-handled lead, brown color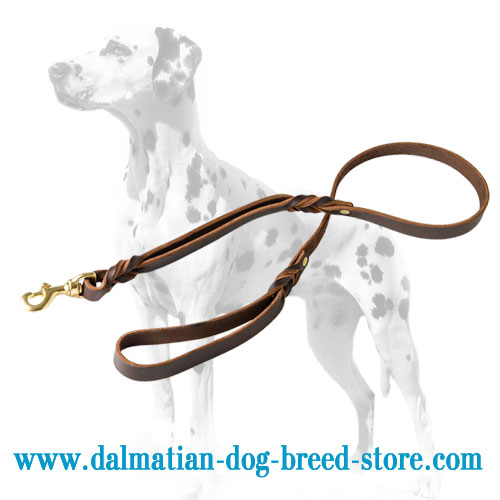 Dalmatian dog leash with pull tab option
Key features of this Dalmatian Dog Leash:

High-quality leather
Solid brass snap hook
Extra strong
Corrosion-resistant hardware
3/4 inch wide
Short braids
2 handles

Intended use of this Dalmatian Dog Leash:

Sizes available:

Available colors:
This Leather Dalmatian Dog Leash with Extra Handle is constructed of premium quality leather. It is smooth and soft, won't rub the hands and at the same time super strong, withstanding hard pulling loads.

The leash is also rather long (5 ft) that provides your dog with freedom of movements when you walk him. However, if you have to get better control over your pet there is an option of a "pull tab": special handle close to the snap allows you to pull the disobedient dog closer to you when you cross the road or take the bus.

The snap hook is made of solid brass, which features the utmost strength and corrosion resistance. This small item is as quality as the product itself.