More info
Exclusive Walking Dog Leash for Dalmatian
Isn't your leash durable enough to withstand the pulling force of your Dalmatian? This Handcrafted Leather Dog Leash would be an optimal choice both for training or walking purposes. It is made of high grade leather, which is hand cut and sewn. Careful stitching increases the leash's strength, so it won't tear when pulling hard. The item also features brass hardware and beveled edges. Therefore, it is soft to the touch and pleasant to hold for hours.
Click on the pictures to see bigger image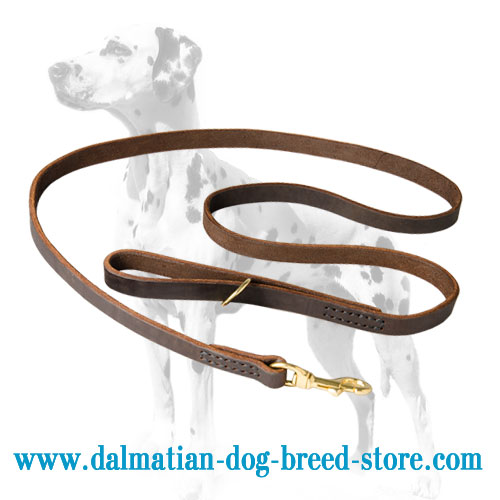 Dalmatian dog leash of leather, soft to the touch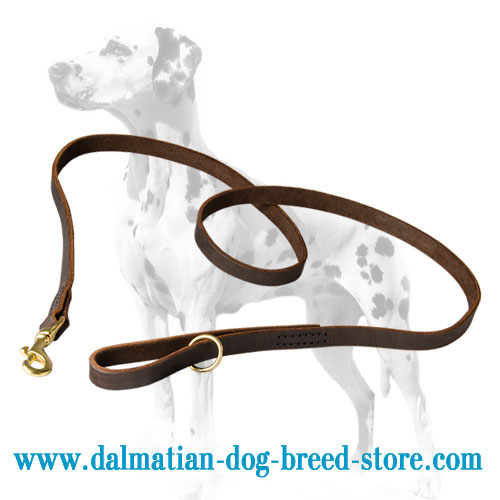 Leather lead for Dalmatian breed
Key features of this Dalmatian Dog Leash:

Made of leather
Brass snap hook (rustproof)
Stitched for durability
Beveled edges
3/4 inch wide

Intended use of this Dalmatian Dog Leash:

Sizes available:

1 ft (30 cm)
2 ft (60 cm)
3 ft (90 cm)
4 ft (120 cm)
5 ft (150 cm)
6 ft (180 cm)
7 ft (210 cm)

Available colors:
The beneficial characteristics of this Dalmatian Dog Leash:
1) The perfect length of this dog leash makes it great walking, training, patrolling and tracking.
2) Wax coated threads are used for stitching. They increase the durability of the item and at the same time make it look really nice.
3) The leash is made of top-grade leather. It has an ability to stretch yet not to lose the shape.
4) It is a pleasure to touch the leash. Beveled edges prevent from calluses or irritation when you need to walk your dog for a long time.
5) The snap hook and O-ring are made of brass. They are gold-colored and extremely resistant to rust.