More info
Show Leather Leash for Dalmatian
Are you a person who values quality above other features? Welcome to check this Show Dog Leather Leash for Dalmatian that is a great combination of quality, comfort, reliability and amazing design. As the item is ultra-thin, you can use it for dog shows to prove everyone that your dog is the best among many others.
Click on the pictures to see bigger image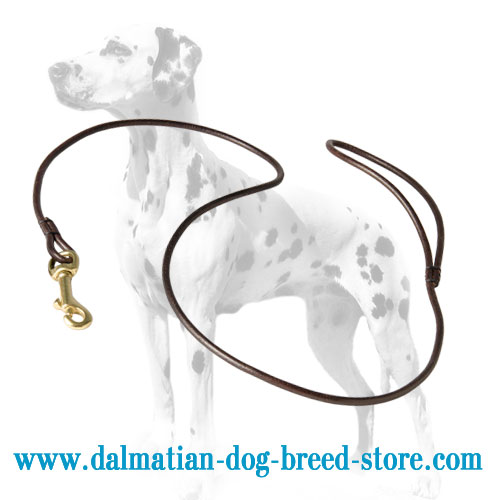 Dalmatian dog show leash of leather, wide range of sizes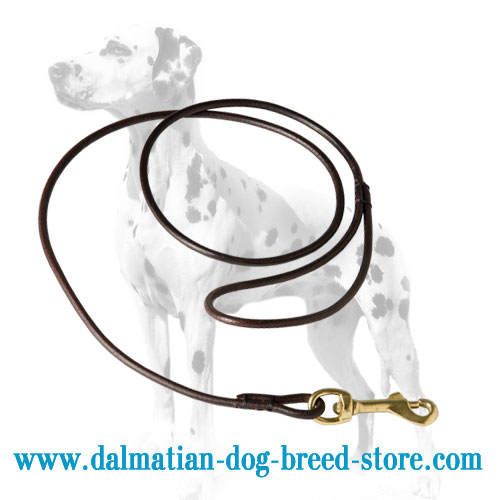 Leather dog show lead for Dalmatian
Key features of this Dalmatian Dog Leash:

Made of leather
Brass snap hook (rustproof)
Round shape
Stitched for durability
Ultra-thin

Intended use of this Dalmatian Dog Leash:

Sizes available:

1 Ft (30 cm)
2 Ft (60 cm)
3 Ft (90 cm)
4 Ft (120 cm)
5 Ft (150 cm)
6 Ft (180 cm)
7 Ft (210 cm)

Available colors:
Learn the main characteristics of this Dalmatian Dog Leash:
- This dog leash is manufactured from 100% genuine full grain leather. Thereby, it is extra serviceable and durable.
- Solid brass is used for manufacturing of a snap hook. Brass doesn't get rusted and has rich gold color.
- The handle is very soft to the touch as it has round shape without edges, so that they won't cut into the skin when pulling.
- Wide range of sizes allows you to make a choice according to the activity you are planning to execute with this leash.
- Affordable price makes this leash even more desirable.