More info
'Fast Grab' Leather Dog Leash for Dalmatian
Is it somewhat problematic for you to lead your dog out of a car? This Pull Tab Dalmatian Dog Leash will help you to manage this problem in the best way! Using this item, it will be much easier for you to pull your disobedient dog out a car. Once you've done it, attach a usual leash to the special O-ring - and you are ready for walking!

This Pull Tab is wax coated for comfort of the handler and stitched for better durability of the item.

NOTE! This kind of leash is not a short walking one. Its loop is not big enough to put the hand through. If you want to get a short walking leash, please CLICK HERE.
Click on the pictures to see bigger image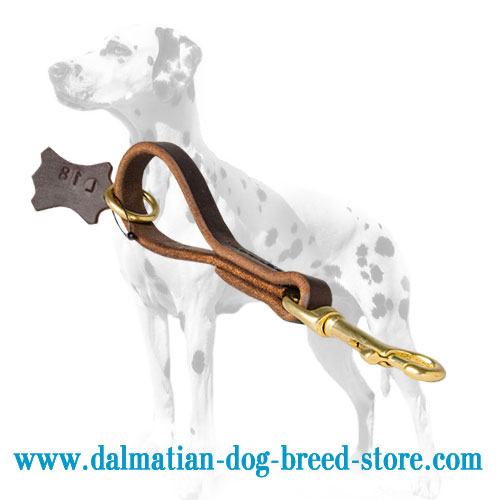 Dalmatian pull-tab stitched leather lead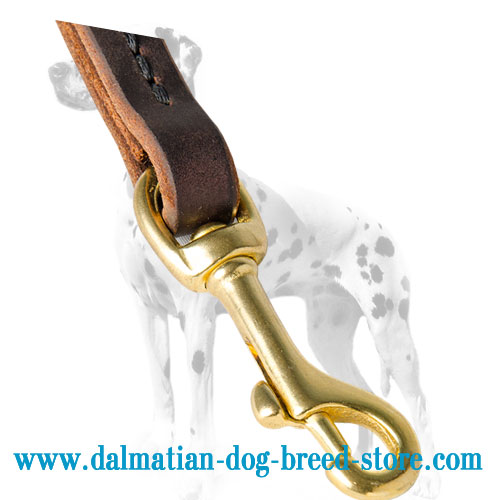 Solid brass snap hook of Dalmatian dog pull tab lead
Key features of this Dalmatian Dog Leash:

High-quality leather
Solid brass snap hook
Extra strong
Corrosion-resistant hardware
1/2 inch wide
1/6 inch thick
Stitched

Intended use of this Dalmatian Dog Leash:

Obedience training
Walking
Better control

Sizes available:

Available colors:
Please, learn the advantages of using this Pull Tab Dog Leash:

1. The item is made of super strong leather; it is extremely long-servicing;
2. Smoothed edges protect your palms from rubbing and cuts;
3. The snap and the O-ring look like real gold as they are made of brass;
4. Floating O-ring is meant for attachment of a longer leash: you won't need to take this pull tab off when you need to attach a usual leash.