More info
Comfortable Dog Leash for Dalmatian Walking with Round Handle
Do you think a good quality leash cannot look gorgeous? This Braided Style Dalmatian Dog Lead will prove you are wrong! This perfect dog walking gear is made of genuine full-grain leather and this leather is woven into a braid, making the leash's look outstanding and the item itself well-stretched and stronger.

The leash is also equipped with a round handle that excludes possible calluses on a handler's palms.

Available in black and brown, you can choose the leash well-matching to your dog's collar or his / her fur.
Click on the pictures to see bigger image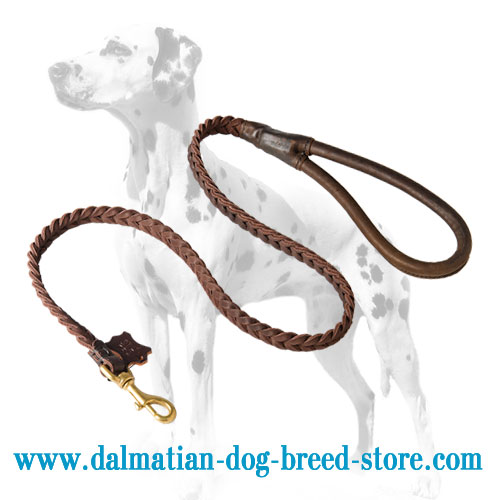 Dog lead for Dalmatian walking and training, brass snap hook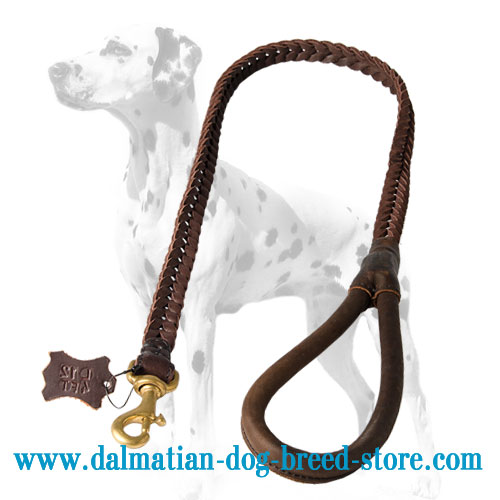 Dalmatian dog lead with convenient handle
Key features of this Dalmatian Dog Leash:

Full-grain leather
3/4 inch wide
Braided design
Brass snap hook
Stitching on the handle
Multifunctional
Round handle

Intended use of this Dalmatian Dog Leash:

Training
Walking
Training

Sizes available:

Available colors:
This dog leash is manufactured from 100% genuine leather. There are no double-up fillers or artificial additives. The item is incredibly strong and promises to serve for a great while.

Brass snap hook shines brightly due to its golden color. It looks luxurious in a great tandem with leather. Brass is also rust proof and isn't afraid of wet areas.

The handle is round-shaped that provides the handler with comfort since there are no edges to cut into the palms.

NOTE, PLEASE! As this leash is a full-grain leather product, try to avoid water contacts and direct sunlight to prolong its service life for years.