More info
Soft-to-Touch Dog Leather Leash for Dalmatian
Are you in search of a reliable dog leash? Do you think it's impossible for the leash to be pleasant to touch? Check the leash, presented on this page, and make sure that a leash can be very soft and will never cause rubs on your palms!

This leash is made of the best English leather, well-known for its softness and extreme strength. There are 2 stable and 1 floating O-rings on the item, so you can diversify the length of the leash simply attaching the snap hook to one of them.

Careful stitching and solid brass fittings make this leash super reliable whatever the situation!
Click on the pictures to see bigger image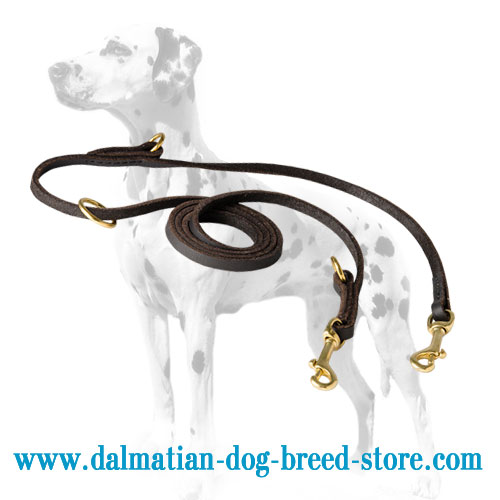 Dog leash, 1/5 inch thick soft English leather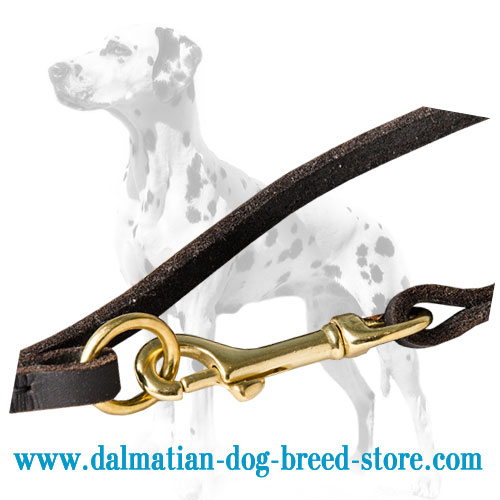 Dalmatian dog lead, 3/8 inch wide
Key features of this Dalmatian Dog Leash:

100% dog friendly materials
Genuine leather
Nice design
Solid & rustproof fittings
Multifunctional
Floating and strable O-rings
2 snap hooks for multimode use

Intended use of this Dalmatian Dog Leash:

Obedience training
Walking

Sizes available:

5 ft (150 cm)
7 ft (210 cm)

Available colors:
How to use this leather dog leash:

- Over the shoulder: Make a large loop using the snap hook and the O-ring in the middle of the leash. Attach the other snap hook to the dog's collar or harness. This will make your dog walking with hands free.

- 3.5 ft leash: Attach the snap hook on one end of the leash to the O ring sewn on the other one. This length is comfortable for you when you need to control your dog better, e.g. in crowded places.

- Tether to the object: Wrap the item around any object. Attach the clip on one end to the floating O ring. Please remember, you shouldn't leave your dog unsupervised when he is tethered.

- Traffic leash: attach another leash to this one, using the O-ring and snap-hook.

- Waist leash: Wrap the leash around your waist and attach the snap hook to the O-ring.

- Walking 2 dogs: Attach 2 snaps to the dog collars and hold the leash in the middle.