More info
Braided Design Dog Leash for Dalmatian
Do you need a reliable leash for walking your Dalmatian? Then having dropped on this page be sure you've found the right one! This 'Braided Snake' Dalmatian Leather Dog Leash features superb quality both in design and strength. It is a handcrafted leash suitable for walking and training, which won't cause any rubbing on your palms, as the leather used for this leash is extremely soft.

The decorative braids together with brass snap hook make this leash very nice-looking.
Click on the pictures to see bigger image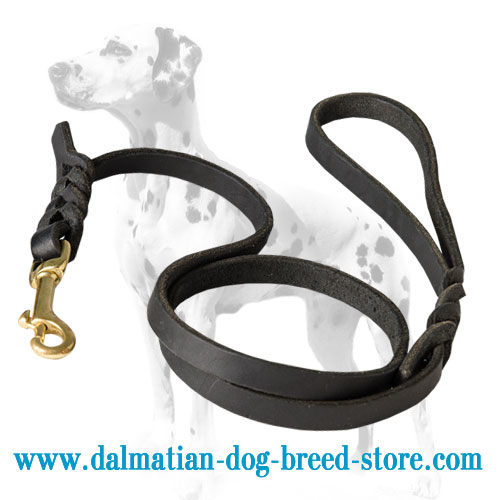 Dog leash of soft leather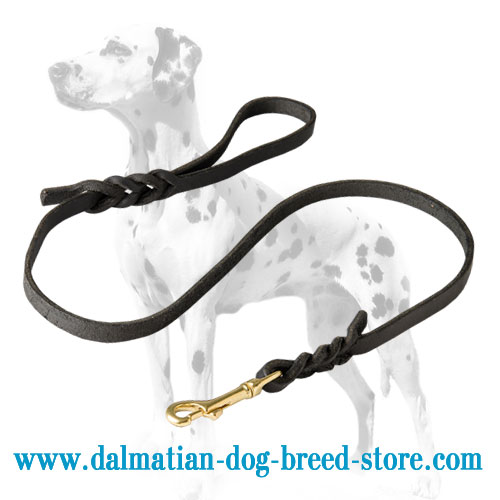 Dalmatian dog lead: 1/2 inch wide double leather
Key features of this Dalmatian Dog Leash:

100% dog friendly materials
Genuine leather
Nice design
Solid & rustproof fittings
Multifunctional

Intended use of this Dalmatian Dog Leash:

Obedience training
Walking

Sizes available:

Available colors:
This Braided Design Dog Leash for Dalmatian is made of carefully selected genuine leather. It is a very reliable, dependable and strong item for walking even large dog breeds. Strong pulling and hard training sessions are not a problem! The leash withstands huge loads and won't tear. Double stitching and solid steel fittings ensure the item's long service life.

Walking with this leash is comfortable, confident and really fashionable. And it will surely help your dog stand out among the others.