More info
Leather Dog Coupler Leash for Dalmatians
Do you want to walk your two Dalmatians easier and in a more convenient way? Welcome to consider this Dog Coupler Leash which will definitely leave the problem of tangled leashes in the past! There are 2 brass snap hooks meant for attachment to the dogs' collars, and an O-ring that connects two straps and serves for the usual leash attachment. As you can see, you have no need to buy two different leashes, just purchase the item offered here!

Genuine high-quality leather, brass fittings and amazing design make this dog coupler the best one among many others.
Click on the pictures to see bigger image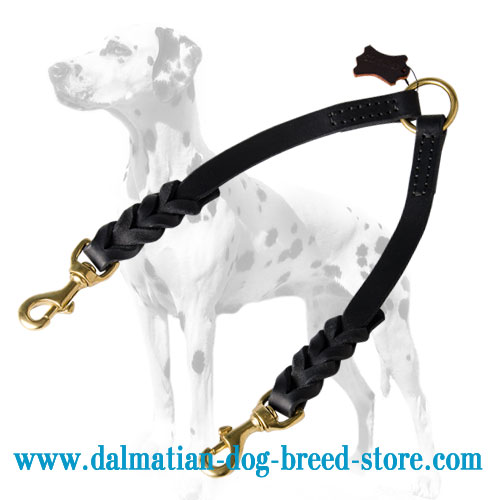 Dalmatian dog coupler with brass hardware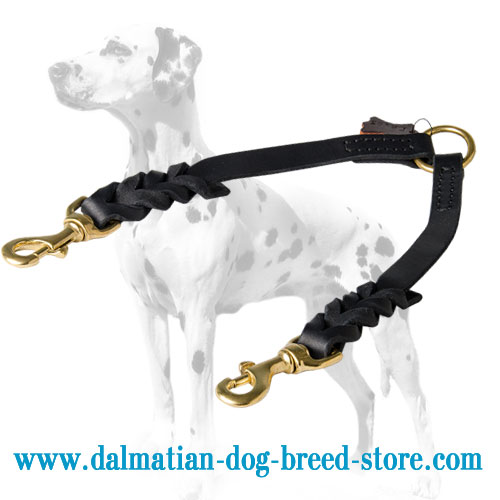 Dalmatian dog leather coupler, perfect design and reliability
Key features of this Dalmatian Dog Coupler Leash:

Made of genuine leather
Brass fittings (rustproof)
Stitched
3/4 inch wide
O-ring for the usual leash
Plaits on the ends

Intended use of this Dalmatian Dog Coupler Leash:

Sizes available:

Available colors:
Let's consider the advantages of this Dalmatian Dog Coupler:
1) The item is made of top-quality genuine leather. It is carefully oiled to increase its resistance to humidity and stitched in stressed locations. It is totally tear-proof and will serve for a great while.
2) The hardware is made of brass. This alloy features high strength and resistance to rust and corrosion.
3) Decorative plaits on the ends make the leash look gorgeous and stylish.