More info
Heavy-duty Braided Dog Leash for Dalmatian
Do you want to add some beauty to your daily dog walking? This Full-Braided Dog Leash will do it in the best way! This great dog gear provides enhanced style due to its exceptional craftsmanship. High quality, dependability and comfort are all combined in this product.

The leash is treated with oil to preserve, soften and waterproof the leather. There is also a brass bolt snap that is riveted to exclude its falling out. The handle is softly padded for you to feel extra comfort when walking your beloved pet.
Click on the pictures to see bigger image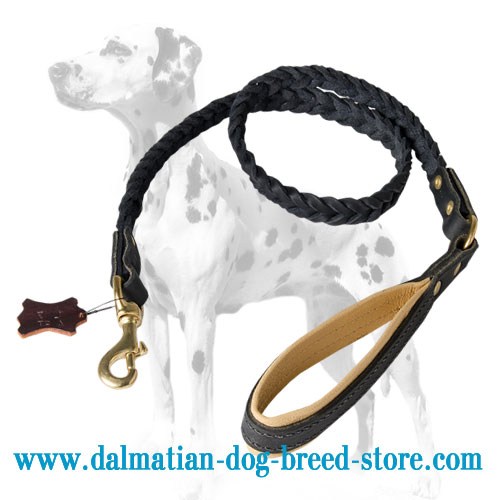 Dalmatian dog leash of full-grain leather, handcrafted design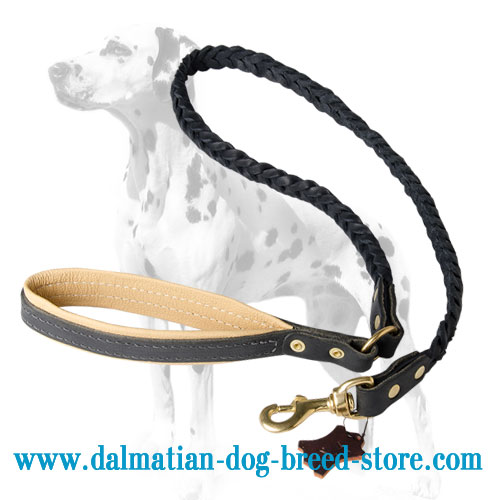 Leather lead for Dalmatian walking, stitched and riveted
Key features of this Dalmatian Dog Leash:

Made of leather
Brass snap hook and O-ring (rustproof)
Padded handle
Stitched for durability
Full-braided
3/4 inch wide

Intended use of this Dalmatian Dog Leash:

Sizes available:

Available colors:
The beneficial features of this Dalmatian Dog Leash:
1. The leash is made of genuine leather that provides strength and long service life.
2. Special leather padding on the handle protects your palms from skin irritation and calluses, so you can walk your dog for hours.
3. Stitching with wax coated threads far increase the durability of the item.
4. The fittings are made of brass. They have rich gold color and are also resistant to rust and corrosion.
5. Braided design is a nice decoration, but it also offers superior strength when stretching. So if your Dalmatian is a hard puller this leash will be a great choice.