More info
Extra Comfortable Leather Dog Leash for Dalmatian
Are you an owner of a young and active canine? Does he have boundless energy? When a dog pulls the leash hard it may be inconvenient for the dog handler: the edges may cut into palms causing pain and discomfort. We can help you deal with this problem! Our craftsmen have created an item meant for walking active dogs and for protecting the dog owner from calluses if walking the dog for hours. This dog gear has a soft padded handle, which provides you with utmost comfort no matter how long you walk your doggie!
Click on the pictures to see bigger image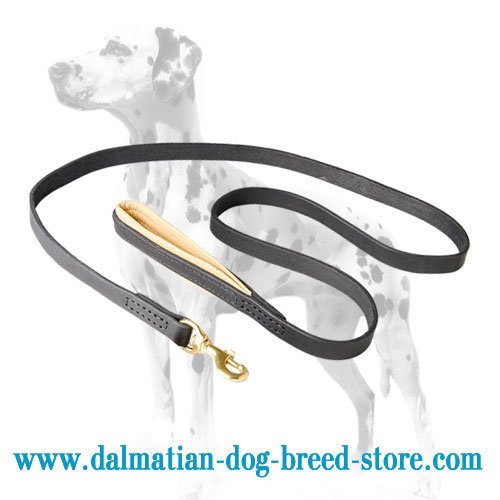 Dalmatian dog leather leash stitched on the handle
Dalmatian dog collar, manually stitched
Key features of this Dalmatian Dog Leash:

Made of leather
Brass snap hook
Carefully stitched
Leather padded handle
Smooth edges
3/4 inch wide

Intended use of this Dalmatian Dog Leash:

Sizes available:

1 Ft (30 cm)
2 Ft (60 cm)
3 Ft (90 cm)
4 Ft (120 cm)
5 Ft (150 cm)
6 Ft (180 cm)
7 Ft (210 cm)

Available colors:
This Leather Dog Leash & Choke Collar has leather padded handle that won't irritate the skin on your palms. So each time your young energizer pulls the leash, you won't feel pain.

Solid hardware is made of brass. The snap is easy to clip to your doggie's collar. It has bright gold-like color that will not get rusted since brass is completely resistant to it.

The item is made of ultra-strong, full-grain leather. There are no double-up fillers, so the leash features the best quality and will definitely serve for a long time.

TREATMENT:
- Lubricate the leather with specials leather sprays or conditioners;
- Use water repellents;
- Avoid water contacts and direct sunlight.