More info
Exceptional Quality Leather Dog Lead for Dalmatian
Do you want to find a multifunctional dog lead, which would serve you for a long time? Welcome to check this Exceptional Quality Leather Dog Lead! Made of genuine and perfectly crafted leather, this item features superb practicability and strength. Once you take your dog for a walk with this leash, you'll definitely state that he is much easier to control the dog whilst the leash itself is super soft in your hands. The quality of the item is exceptional due to the smoothed edges, strong stitching on the handle and solid, rustproof hardware.
Click on the pictures to see bigger image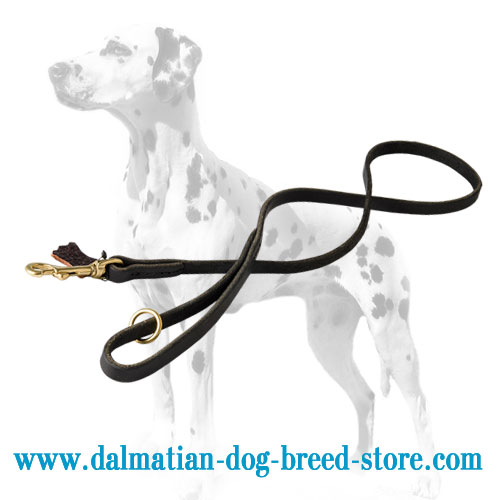 Dog lead of genuine leather, brass snap hook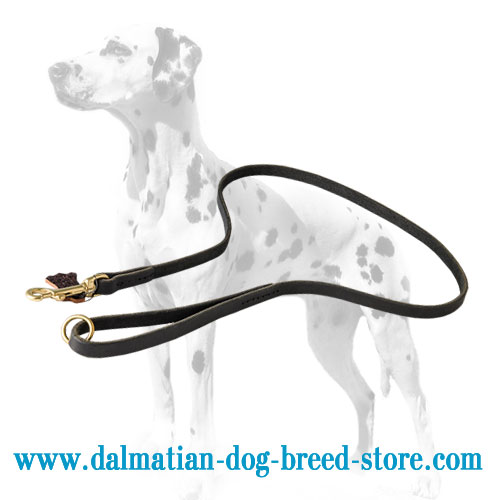 Dalmatian dog leash of well-crafted leather
Key features of this Dalmatian Dog Leash:

Full-grain leather
1/2 inch wide
Smoothed and rounded edges
Brass O-ring on the handle
Stitching on the handle
Multifunctional

Intended use of this Dalmatian Dog Leash:

Sizes available:

Available colors:
This dog leash is a top-grade quality product as it is made of carefully worked-out leather. Smoothed and rounded edges won't fray; there is stitching on the handle to provide it with extreme reliability and an opportunity to pull hard - the leash won't tear.

The fittings are made of brass, and they add some richness to the whole look. Moreover, brass is highly resistant to corrosion and won't lose its look shortly.