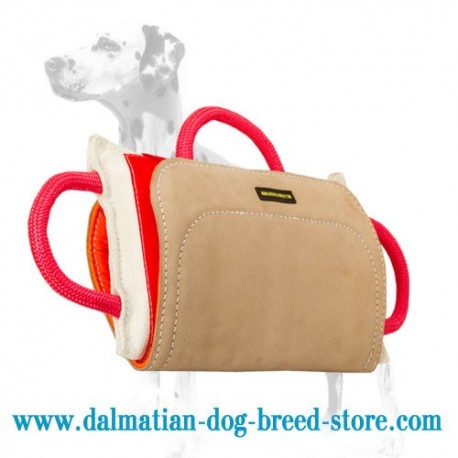 View larger
'Pro Bite Pillow' Dalmatian Training Pad with Leather Cover
TE13L1045 Bite Pad with Leather Cover (24x37cm)
New product
In stock
Warning: Last items in stock!
Availability date: 01/01/2015
More info
Dog Training Bite Pad Equipped with Leather Cover for Dalmatian Training
Wanna make your dog's training more challenging? Get this bite pad with removable leather cover and see for yourself how different it is for your pet to bite this surface. Leather is smooth and puncture-resistant, so your Dalmatian will need to take a lot of efforts to grab the pad with his mouth. Therefore, your dog trains his strength and stamina, makes his jaw muscles more powerful and develops his protective instincts in the best way.

The pad has 3 round full-grip handles. They are firmly stitched to the body and won't fall out because of aggressive use. The presented item is a real finding for those who want to train Dalmatian at an advanced level.
Click on the pictures to see bigger image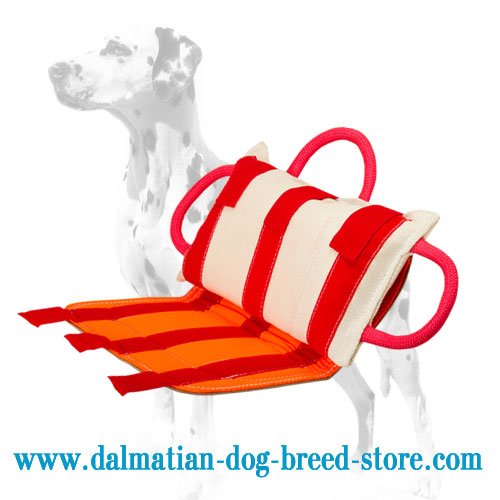 Dalmatian training dog bite pillow with 3 reliably stitched handles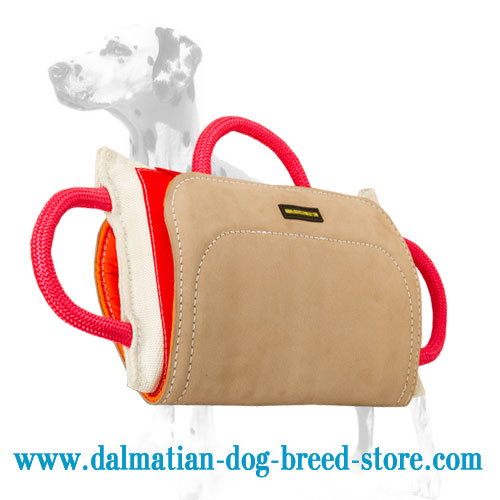 Dalmatian training bite pillow with three handles
Key features of this Dalmatian Training Bite Pad:

Durable materials
3 comfy handles
Puncture-resistant
Heavy-duty manually stitched
Eco-friendly
Removable leather cover

Intended use of this Dalmatian Training Bite Pad:

biting skills development
retrieve item
young dogs training

Sizes:

width - 8 inches (20 cm)
length - 12 inches (30 cm)
weight - 2 lb (900 g)

Material:

Leather cover
High-quality synthetics
This Dog Bite Pillow is made of first-class quality materials. The stuffing is safe for a dog's health and won't cause allergies or stomach problems. There are 3 ergonomic handles that are reliably hand-stitched. These handles are easy to grab strongly not to allow your dog to get the "prey" too easily.

The pad is equipped with ultra-strong leather cover. It can be changed into another one in case if you want to make training varied or if this one wears out. The cover is easy to attach and remove due to the special Velcro Closure.

NOTE! This dog training bite pad is not a chew toy!