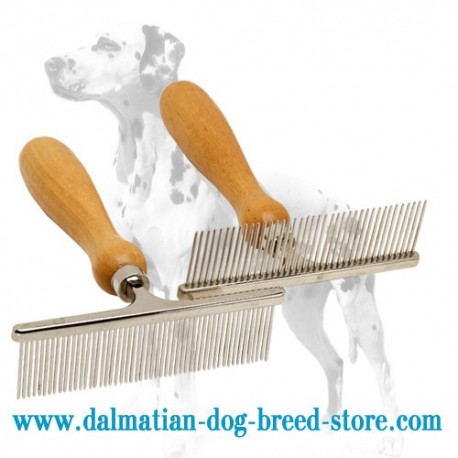 View larger
'Hair Stylist' Dog Wooden Brush for Dalmatians
KA14#1045 Metal brush with wooden handle #1
New product
In stock
Warning: Last items in stock!
Availability date: 01/01/2015
More info
Dog Brush for Dalmatian Grooming
Are you a caring Dalmatian owner? Not only long-haired dogs are in need to be always good-looking, well-tended and groomed. Such dog breeds as your beloved Dalmatian also want to have neat, brushed and shiny hair. Every caring dog owner wishes his doggy had perfect look and stood out of the other dogs while walking in the neighbourhood. If you are one them, turn your attention to our new item! Get this Chrome Plated Metal Brush with Wooden Handle for your Dalmatian to be one in a million! Using this brush you will present your four-legged friend his personal hairdresser that will help him to stay always the most beautiful dog ever!
Please read more information about this item below.
Click on the pictures to see bigger image
Key features of this Dalmatian Dog Brush:

easy to use
comfy wooden handle
rust-resistant teeth of the brush
perfect distance between teeth
fine design

Intended use of this Dalmatian Dog Brush:

dog coat grooming
styling
brushing
mats removing

Characteristics:

length 6 inch (14,5 cm)
width 4 1/3 inch (11 cm)
diameter of the handle 1 2/5 inch (3,5 cm)
the distance between the teeth is 2/5 lines (0,8 mm)
weight - 1/5 lbs (84 g)

Materials:

chrome plated teeth
wooden handle
The model of dog hair brush introduced at this page is perfect for both short and long-hair dogs. The distance between the teeth is 2/5 lines, thus it will groom your dog's fur more effectively than other combs or brushes. So using this item you will be able to brush, comb and style your Dalmatian's hair without any difficulties. The teeth of this comb are made of the chrome-plated metal and the handle is wooden that makes it very comfortable to use. Besides, it is a really lightweight and neatly designed tool. You will be completely satisfied with the effectiveness and practicability of this brush.
Professionals recommend to comb your dog at the rear of your pet and work your way toward the front. Work with the direction of hair growth.
This page offers a model that is to the left on the pictures. You can also order this brush with bigger distance between the teeth (1/10 inch - 2mm) - it is to the right. It will be perfect for Long-Haired Breeds, so if you are a happy owner not only of the Dalmatian but also of some beautiful long-haired dog breed you may check another Hair Designer Dog Comb for Long-Haired Dogs