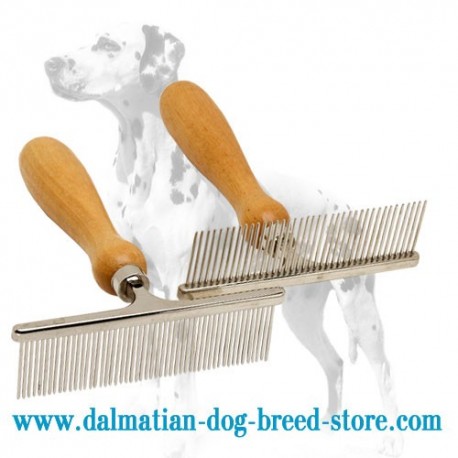 View larger
'Hair Designer' Dalmatian Dog Metal Brush
KA15#1045 Metal brush with wooden handle #2
New product
In stock
Warning: Last items in stock!
Availability date: 01/01/2015
More info
Metal Brush with Comfy Wooden Handle for your Dalmatian
Want your Dalmatian look like a Hollywood star? Dreaming about having your dog's fur always in perfect condition effortlessly? Purchase now our new product that will make your Dalmatian shine brightly like a star on the red carpet while daily walking. This is Chrome Plated Metal Dog Comb with Wooden Handle! It is suitable both for long-haired dogs and for dog breeds as your Dalmatian. It is very practical and easy to use. With the help of this item grooming will be nothing but a real pleasure! Using this dog hair brush you will be able to style, comb, brush and set your pet's hair as you want!
Interested? Then please, read the text below to get more information about this item.
Click on the pictures to see bigger image
Key features of this Dalmatian Dog Brush:

wooden handle
chrome plated teeth
resistant to rust
handy
quite long teeth

Intended use of this Dalmatian Dog Brush:

dog coat grooming
combing
styling
removing tangles, mats, loose hair and dirt
good for making hair fluffy

Characteristics:

total length - 5 7/10 inch (14.5 cm)
width of the shaft - 4 3/10 inch (11 cm)
height of the teeth - 1 3/10 (3.5 cm)
distance between teeth - 2 mm

Materials:

chrome plated teeth
wooden handle
If you are a happy owner not only of the Dalmatian dog breed, but also have some gorgeous long-haired doggy, this Metal Dog Brush is perfect for you. Long-haired dogs very often have tangles and mats. The only way to get rid of them is to comb or brush the pet's hair. Our Chrome Plated Dog Comb with Wooden Handle is very comfortable to use for a dog owner because of its comfy wooden handle, which allows you to remove mats, comb, brush and style your dog's hair without any difficulties.
The teeth of this item are placed at a quite good distance (2 mm) so as to allow the comb slide easily along the hair. Using this dog comb your dog's coat will look healthy, shiny and very beautiful. So, the advantages of using this Metal Brush are obvious.
If you own a short-haired dog then you can use our Personal Stylist Metal Comb specially created for dogs with short coat. Click the link and check out the difference between the two dog combs and choose the one that suits your needs.