More info
Dog-Safe Jute Bite Tug for Dalmatian Elementary Training
Want to make your dog's training sessions exciting and funny? This Extra Durable Dog Bite Tug will excite any dog! This great item is created especially for young dogs and puppies to develop their immature jaw muscles and to build up strong, confident grip. It is also a great tool for prey drive training: move it around your body at a fast speed and make your Dalmatian annoyed at a wish to catch it. It is so funny to play this "run & catch" game with your beloved furry family member.
Click on the pictures to see bigger image
Dalmatian puppy training bite tug of jute material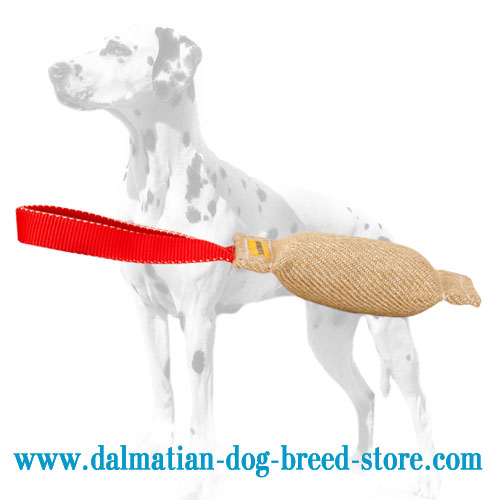 Dalmatian training bite tug, stuffed with safe synthetics
Key features of this Dalmatian Training Bite Tug:

durable materials
1 nylon handle
handmade
heavy-duty stitched
eco-friendly

Intended use of this Dalmatian Training Bite Tug:

biting skills development
retrieve item
young dogs training

Sizes:

width - 2 3/4 inch (6 cm)
length - 8 inches (20 cm)

Material:
This pocket puppy bite tug is made of strong Jute material that is safe for the dog's teeth and his overall health. The stuffing doesn't contain any harmful substance that could cause allergy or problems with the stomach.

It is heavy-duty stitched to provide utmost durability. Strong nylon loop provides you with firm grab and confidence when conducting training sessions. Moreover, the tug is small-size for you to take everywhere in your pocket: it won't take much space!

NOTE! This dog training bite tug is not a chew toy!