More info
Jute Dog Bite Tug with Loop for Dalmatian Training
Don't you think it's high time to start training your Dalmatian? Pay attention to this handmade jute bite tug meant for grip development and excellent prey drive training. Extra durable jute material is resistant to a dog bites and will definitely serve for a great while. Careful hand-stitching far increases the item's durability. Nylon handle provides the trainer with comfortable grab, so you won't let your dog catch the "prey" too easily. So be sure using this great tug you'll turn your daily game-like dog training into a funny, amazing game!
Click on the pictures to see bigger image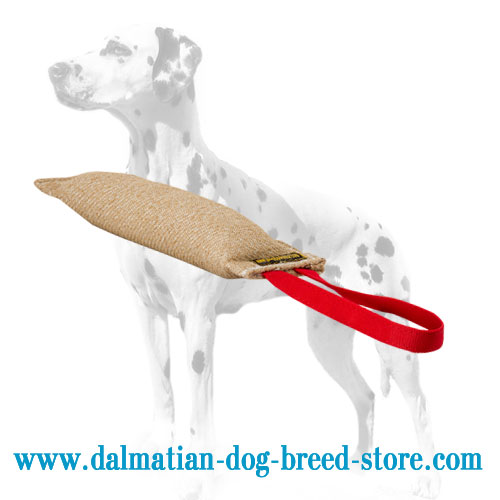 Dalmatian dog bite tug of jute, surface safe for a dog's teeth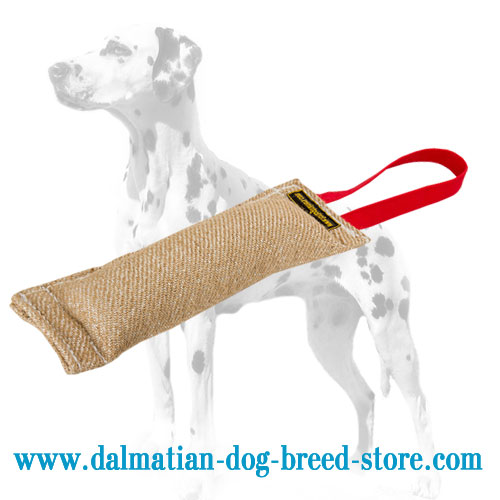 Dalmatian training bite tug of jute, eco-friendly
Key features of this Dalmatian Training Bite Tug:

durable materials
nylon loop
pocket size
heavy-duty stitched
eco-friendly

Intended use of this Dalmatian Training Bite Tug:

biting skills development
retrieve item
young dogs training

Sizes:

width - 2 1/3 inches (6 cm)
length - 12 inches (30 cm)

Material:
If you purchase this dog bite tug you will get:
- A strong and reliable item;
- An Easy-to-handle and care-for tug that is perfect for a dog bite work;
- A Handmade tool that will serve for years.

This tug has got non-slipping surface that is perfect for a dog to bite. It's not too much strong that would damage the dog's teeth, yet very durable to serve for long. The item is stitched at the edges for better strength. There is also a strong nylon handle fastened to the tug's body. This handle provides the trainer with safety and better comfort when conducting training.

NOTE! This dog training bite tug is not a chew toy!