More info
Jute-Surfaced Dog Bite Tug for Training Dalmatian
Want to have a strong and healthy dog beside you? Then training him properly would be a must. Active training develops a dog's strong grip, builds muscular system, prevents boredom behavior and keeps his mental activity at the proper level. A well-trained dog understands when it's necessary to bark in order protect the owner and always obeys his Master's commands.

Welcome to check this Dog Bite Tug meant for a dog's development of stronger grip and biting skills. Being made of jute, this item is eco-safe and very durable. It doesn't tear easily and will definitely serve for a long time. This material does not irritate a pet's gums and does not cause teeth damages.
Click on the pictures to see bigger image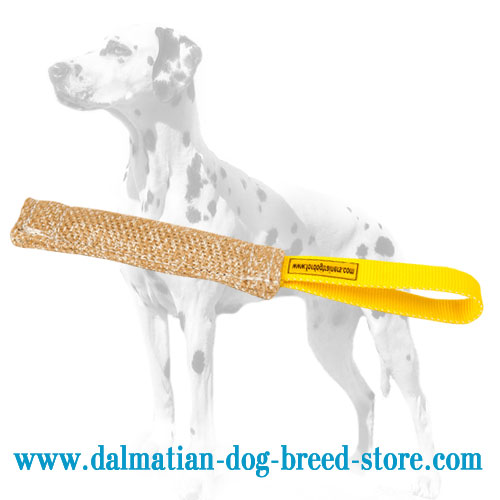 Dalmatian training jute bite tug, dog-safe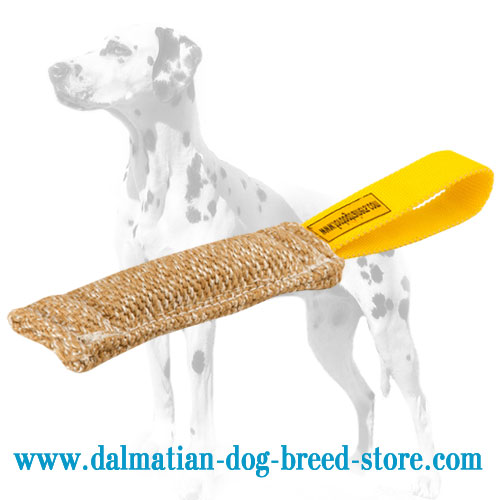 Dalmatian training bite tug of jute, easily portable
Key features of this Dalmatian Training Bite Tug:

durable materials
1 nylon handle
handmade
heavy-duty stitched
eco-friendly

Intended use of this Dalmatian Training Bite Tug:

biting skills development
retrieve item
young dogs training

Sizes:

width - 1 3/4 inch (4 cm)
length - 8 inches (20 cm)

Material:
This tug has a small size and therefore is easily portable wherever you go with your dog. It's equipped with a nylon loop that is heavy-duty stitched to make sure it won't fall out. This loop is comfortably wide so that you could grab it strongly creating some resistance when your dog tugs the tool.

This product is excellent for elementary dog bite training to build a better position grip and to develop your dog's natural biting instincts.

NOTE! This dog training bite tug is not a chew toy!