More info
Puppy Bite Tug for Dalmatian Training Made of Jute
Don't know how to start training your puppy Dalmatian? You should know that any pup training should be conducted in a playful way. Playing makes the puppy excited, prevents boredom behavior, and strengthens his muscles and grip.

Considering body parameters of your small four-pawed friend, this Pocket-Sized Dog Bite Tug is an excellent tool for development biting and protective instincts of your dog. Small size doesn't take much space in your bag or pocket, so you can take it each time you go out with your doggie. Therefore, you won't miss an opportunity to practice your dog's skills anywhere / anytime.
Click on the pictures to see bigger image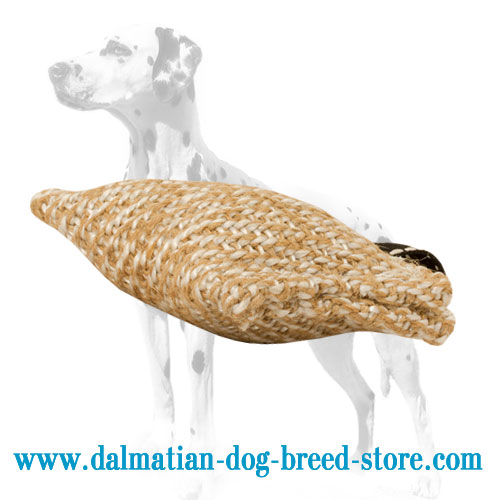 Dog bite tug of jute, 3.5 x 3.25 inch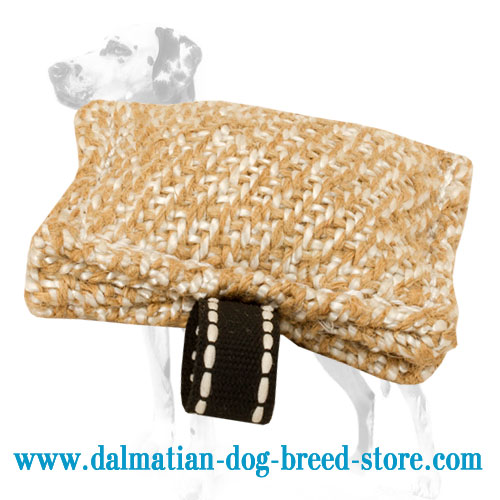 Dalmatian training pocket-sized bite tug
Key features of this Dalmatian Training Bite Tug:

Durable material
Loop-like handle
Puncture-resistant
Heavy-duty stitched
Eco-friendly
Pocket size

Intended use of this Dalmatian Training Bite Tug:

Biting skills development
Retrieve item
Young dogs training

Sizes:

3.5 x 3.25 inch (9 cm x 8.5 cm)

Material:
Learn more about this Bite Training Pocket Tug:
1) Small size: being only 3.5 x 3.25 inch, it is convenient to carry it pocket, so this item can be your small helper when your dog gets bored and needs some activity.
2) Safe material: jute is totally non-toxic and strong. It doesn't tear easily and also won't cause any diseases to your beloved pup.
3) Small stitched loop: you can put your finger through it, creating some resistance to your dog. When tugging, the dog will need to take some physic efforts; this challenging work builds strong muscles and better grip.

NOTE! This dog training bite pad is not a chew toy!