More info
Large-Sized dog Bite Tug for Training Dalmatian
Want to make your Dalmatian strong and powerful family guard? This Bite training Tug will help you in this responsible purpose! This item is specially created to develop your dog's natural protective skills and to teach him to bite strongly and confidently.

Made of sturdy Jute, this tug is completely tear-resistant and promises to serve for a great while no matter how often you use it. Jute is safe both for a dog's teeth and overall health. It won't cause stomach problems or allergies as this material doesn't contain any toxicants.
Click on the pictures to see bigger image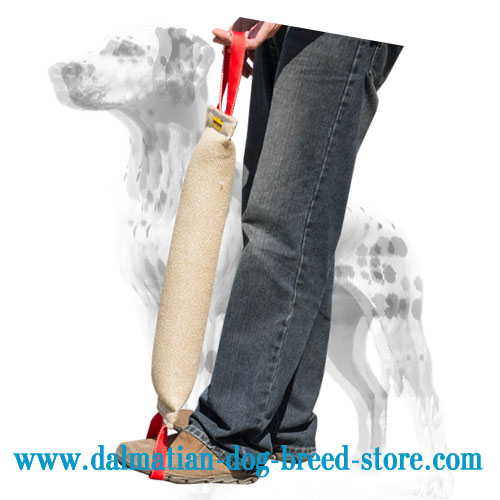 Dog bite tug of jute, extra large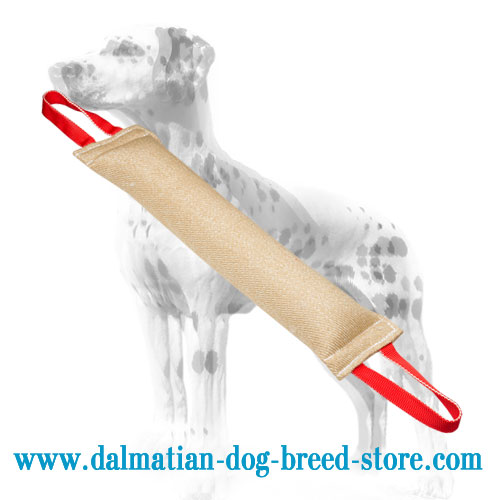 Dalmatian training bite tug, heavy-stuffed
Key features of this Dalmatian Training Bite Tug:

Durable materials
2 comfy handles
Puncture-resistant
Heavy-duty stitched
Eco-friendly

Intended use of this Dalmatian Training Bite Tug:

biting skills development
retrieve item
young dogs training

Sizes:

width - 4 inches (10 cm)
length - 24 inches (60 cm)

Material:
This dog bite tug has two large loop-like handles that are easy to hold and rather wide to wear on the wrist. They are stitched with thick threads and won't fall out when your dog tugs the item with all his strength. The handles allow you to use the tag for prey drive training: move it around yourself at a fast speed, making your Dalmatian wish to catch "the prey". Be sure your pet will love playing with this amazing toy!

NOTE! This dog training bite pad is not a chew toy!