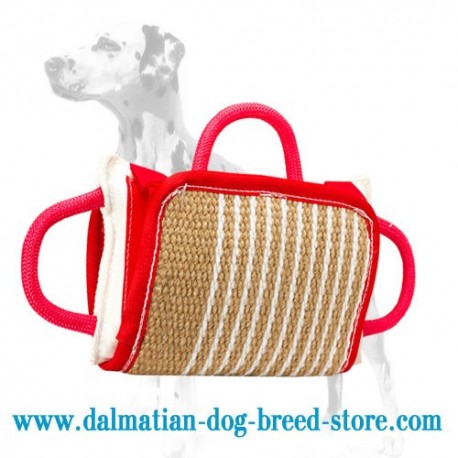 View larger
'Biting Jaws' Dalmatian Training Bite Pad for Grip Development
TE13#1045 Bite Pad with Jute Cover (24x37cm)
New product
In stock
Warning: Last items in stock!
Availability date: 01/01/2015
More info
Bite Training Pad with Jute Cover for Dalmatians
Are you trying to find a safe and durable item for training your active Dalmatian? Let's consider this Bite Training Pad with removable cover! This gear is a great help for you to make training sessions playful. It's easy to use due to three round handles reliably stitched by the hands. Special jute cover guarantees perfect bite work as this material is totally safe for teeth and easy to puncture even for the young & inexperienced dogs.

This pad is meant for developing strong, full-mouth grip of your future furry guard. Don't waste your money for other low-quality pads, stop your search on this one!
Click on the pictures to see bigger image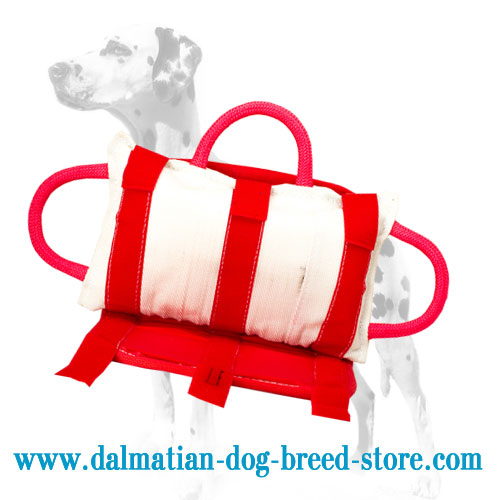 3-handled dog bite pad for training Dalmatians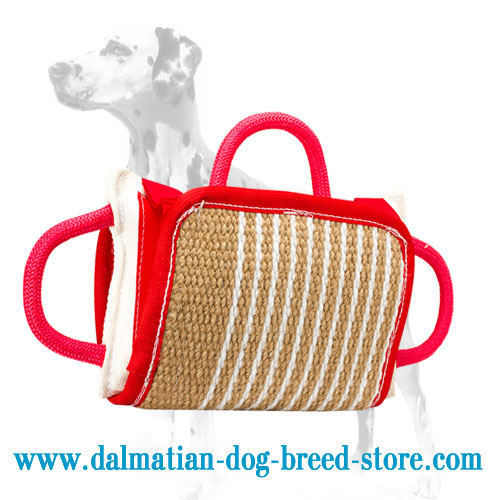 Dalmatian training bite pad with 3 handles for easy use
Key features of this Dalmatian Training Bite Pad:

Durable materials
3 comfy handles
Easy to puncture
Heavy-duty manually stitched
Eco-friendly
Removable jute cover

Intended use of this Dalmatian Training Bite Pad:

Biting skills development
Retrieve item
Young dogs training

Sizes:

Width - 8 inches (20 cm)
Length - 12 inches (30 cm)
Weight - 2 lb 7 oz (1100 g)

Material:

Jute cover
High-quality synthetics
This dog bite pad will serve you for a great while due to its removable cover. Being made from jute, this cover is durable itself and can be removed any time it shows tear and wear. You won't need to buy a new pad: all you will need is to change a cover which is definitely much cheaper. Moreover, you've got an opportunity to change the covers from time to time just for your dog not to get used to biting one surface only. There is special Velcro's that allows you to attach the cover in no time.

3 ergonomic handles are easy to grab and allow you to conduct training in the most comfortable way. They are heavy-duty stitched with strong threads so that they won't fall off when tugging.

NOTE! This dog training bite pad is not a chew toy!