More info
Dog Training Jute Bite Rag for Dalmatians
Looking for a durable rag to work out your dog's jaws and grip? Welcome to check this heavy-duty jute bite rag! It is strong & puncture-proof, and withstands even a mature grip. Save your money in the long run and enjoy your pastime together with your beloved furry friend!

It's a strong, durable jute rag that can be used for initial foundation training for young dogs and puppies. This item is a completely handmade product made by dog lovers for dog lovers.
Click on the pictures to see bigger image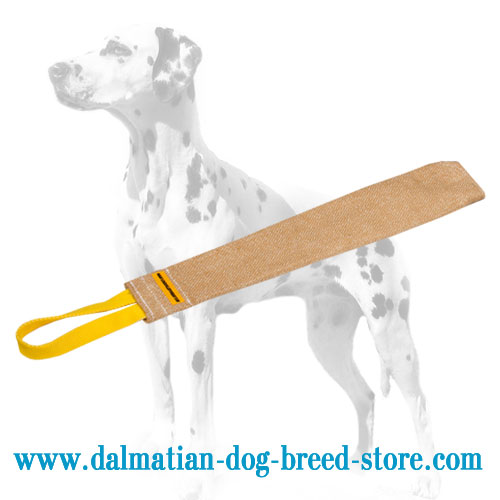 Dalmatian puppy bite training rag with 2 rope handles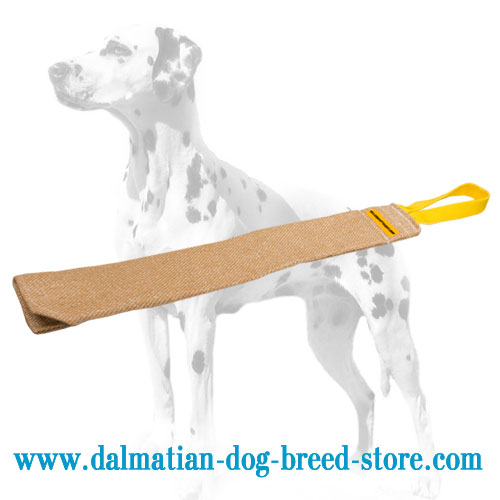 Dalmatian training jute rag, strong & puncture-resistant
Key features of this Dalmatian Training Bite Rag:

Durable jute
Loop-like handles
Easy to puncture
Heavy-duty stitched
Eco-friendly

Intended use of this Dalmatian Training Bite Rag:

biting skills development
retrieve item
young dogs training

Sizes:

width - 4 inches (10cm)
length - 24 inches (60 cm)

Material:
This bite rag is used in biting dog sports. It's 24 inches long and has got a wide, strong handle on it. This handle is heavy-duty stitched to the body, so you can conduct efficient training without any worries.

Strong jute is one of the best materials for the dog bite training items to be made of. Jute won't cause teeth damaging or allergies as it is totally safe and easy to puncture. Moreover, jute material is extremely durable. Rags made of other low-quality materials may serve less than a month until they're completely shredded. The rag offered here will definitely serve you much longer.

NOTE! This dog training bite rag is not a chew toy!