More info
Jute-Surfaced Dog Bite Roll for Dalmatian Puppy Training
Want to train your Dalmatian puppy like a professional? Get this Dog Bite Roll and see for yourself how funny it is to play and train your furry friend! This item is lightweight and equipped with two rope handles; these two features make this roll extremely easy for the handler to maneuver: you can roll it, move at a fast speed and use as a bite tug, involving your pet in a varied and exciting training.

The roll is 1 3/4 inch (4 cm) in diameter, so it is excellent for training puppies considering their immature jaws. Notice also, that this item is made of totally safe jute, so your Dalmatian is protected from possible stomach diseases or allergies.
Click on the pictures to see bigger image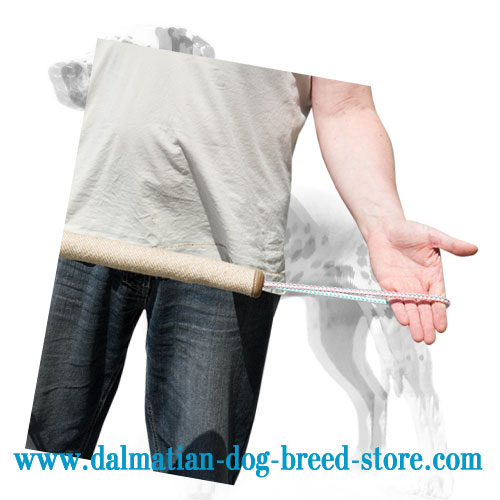 Dalmatian puppy bite training roll with 2 rope handles
Tight Dalmatian training jute bite roll
Key features of this Dalmatian Training Bite Roll:

durable jute
2 rope handles
puncture-resistant
heavy-duty stitched
eco-friendly

Intended use of this Dalmatian Training Bite Roll:

biting skills development
retrieve item
young dogs training

Sizes:

diameter - 1 3/4 inch (4 cm)
length - 12 inch (30 cm) - handles not included
circumference - 6 inches (15 cm)

Material:
This dog bite roll is made of tear-resistant material, so you can use it on a regular basis not worrying the roll can wear-out shortly. Jute is strong, but slightly bendable. Moreover, its great texture is easy for puppies to grab and hang on. If you do not use the item for the teething pup, the material won't cause teeth breakage.

This bite roll is great for a reward in any kinds of training. Small size fits any pocket or training vest so that you could take it anywhere and anytime.

NOTE! Dog training bite roll is not a chew toy!