More info
Dog Jute Bite Pad for Dalmatian Training
Want to protect your dog's health when training with some equipment? Get this Jute Dog Bite Pad and be sure your beloved Dalmatian will be totally protected from allergies or stomach problems! This dog training item is made in accordance to the world standards and considering the highest demands of dog experts.

Equipped with three round handles, you have a great opportunity to vary the angle for dog bites. Moreover, they provide you with comfortable and strong grab, so you won't drop it when the dog tries to get "the prey".
Click on the pictures to see bigger image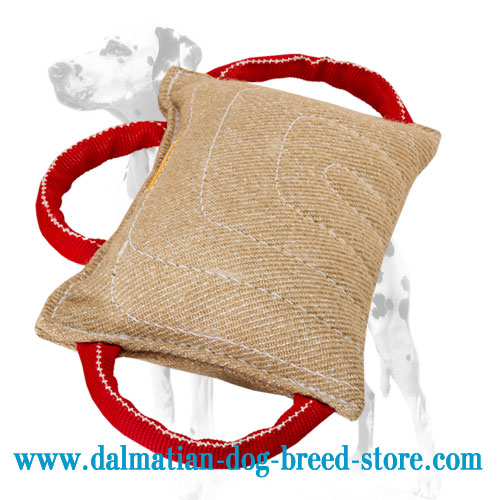 Dalmatian dog training jute pad with stitched handles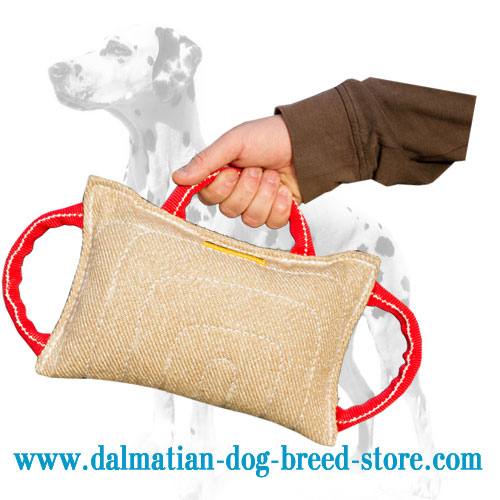 Jute bite pad for Dalmatian training
Key features of this Dalmatian Training Bite Pad:

Eco-safe
3 round handles
Durable
Lightweight
Reliably stitched
Softly stuffed

Intended use of this Dalmatian Training Bite Pad:

Biting skills development
Retrieve item

Sizes:

Width - 8 1/2 inch (23 cm)
Length - 13 inch (33 cm)

Material:
This dog training bite pad is made of puncture-proof Jute and totally hypoallergenic stuffing. It is durable enough to serve for very long. Moreover, you won't need any special efforts to treat the item. All you need is to wash it in your washing machine with other dirty clothes.

It is a handmade product created by a dog lover for dog lovers. Hand stitching provides utmost tear-resistance, no matter how hard your dog bites. You can use this tool for your dog's biting skills development as well as a retrieve item to develop your pet's hunting instincts. It is always fun to conduct training using this great dog gear.

Please note! This dog training bite pad is not a chewing toy!