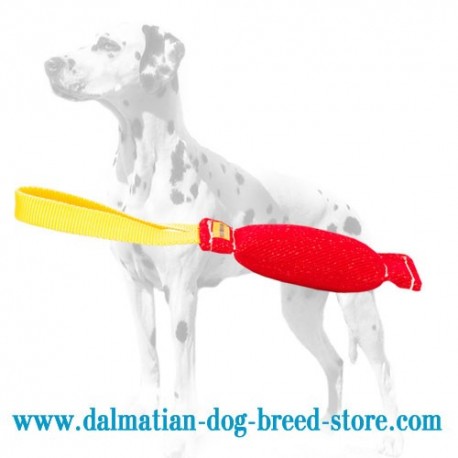 View larger
Dalmatian Training Dog Bite Tug for Retrieving
TE34#1045 French Linen Bite Tug(6x20cm) 1 handle
New product
In stock
Warning: Last items in stock!
Availability date: 01/01/2015
More info
French Linen Dog Bite Tug for Training Dalmatian
Want to excite your dog while training? You'll do it easily with this strong & health-safe bite tug! The tug is stuffed and hand-stitched, has durable surface and is equipped with strong nylon loop for the trainer's comfort. It's a great item to play "run & catch" with your active Dalmatian! This game stimulates your dog's prey drive and develops his biting skills and grip strength.

French linen, the tug is made of, is durable and safe for a dog's teeth and gums. Also, it won't cause any allergies or problems with the stomach.
Click on the pictures to see bigger image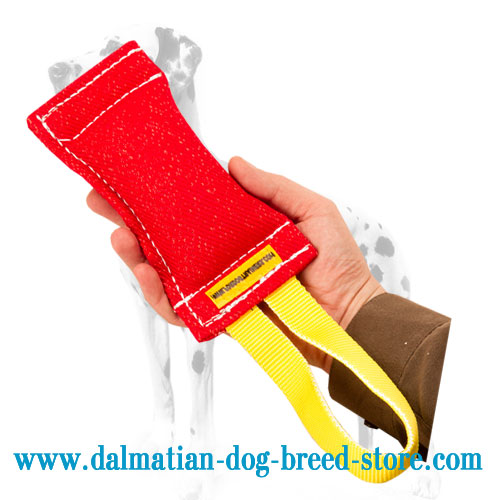 Dalmatian training bite tug made of French linen with stuffing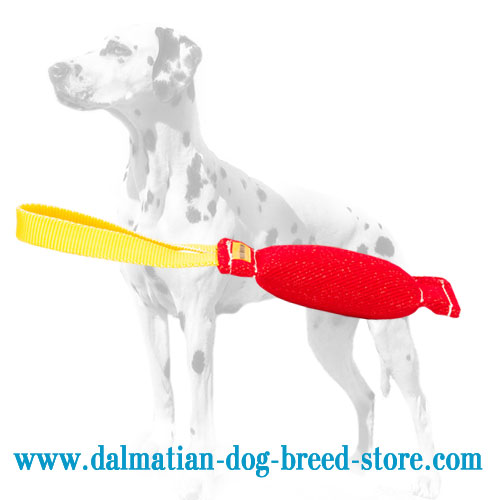 Dalmatian training bite tug, stuffed with safe synthetics
Key features of this Dalmatian Training Bite Tug:

Durable materials
Nylon loop
Handmade
Heavy-duty stitched
Health-friendly

Intended use of this Dalmatian Training Bite Tug:

biting skills development
retrieve item
young dogs training

Sizes:

width - 2 1/3 inch (6 cm)
length - 8 inches (20 cm)

Material:
This dog bite tug is easy to puncture so that your dog can grab it firmly with his teeth. The specially stitched handle allows you to pull the end of the item and create some resistance to the dog. This resistance will make your dog work hard with his jaw muscles, developing grip strength and biting abilities. Moreover, the handle lets you twist the tug in different ways, involving your doggie in a "run & catch" game.

French linen material is very strong and won't tear because of regular puncturing. Reliable stitching far increases the item's durability.

NOTE! This dog training bite tug is not a chew toy!