More info
Pocket Dog Bite Pillow for Dalmatian Training
Want to make your Dalmatian training easier? You'll be definitely satisfied with this small dog bite pillow created especially for those dog owners who don't like carrying much equipment in order to work out the dog's grip. This pocket tug doesn't take much space in your bag, so you can always take it with you everywhere.

Made of study French linen, this tiny item withstands many bites and won't tear shortly. The special nylon loop is manually stitched to the item's body for more comfort of the trainer. It's a great reward toy and a retrieve item and can be used both indoors and outdoors.
Click on the pictures to see bigger image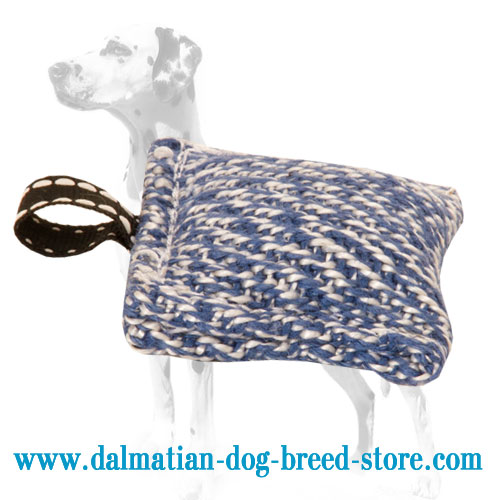 Dalmatian dog bite tug of French linen, pocket-sized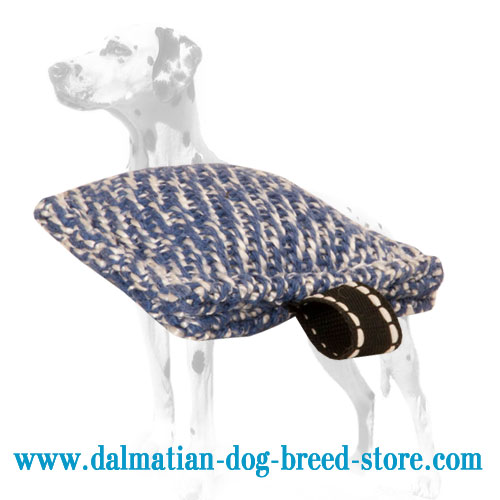 Dalmatian training bite tug, pocket size & handmade
Key features of this Dalmatian Training Bite Tug:

Durable materials
Nylon loop
Handmade
Heavy-duty stitched
Dog-friendly

Intended use of this Dalmatian Training Bite Tug:

biting skills development
retrieve item
young dogs training

Sizes:

width - 3 1/3 inches (9 cm)
length - 3 1/4 inches (8.5 cm)

Material:
This dog bite training tug is produced from extra strong French linen that is totally health-safe and won't harm your dog's teeth or gums. Nylon loop is meant for carrying on the finger so that you could add some resistance to your dog when he tugs the item.

The small size allows you to take it everywhere, not losing the chance to practice your dog's grip and biting skills. Excellent for elementary bite / grip / prey drive training.

NOTE! This dog training bite tug is not a chew toy!