More info
French Linen Dog Bite Pad for Dalmatian Training
Do you think it's time to engage your Dalmatian in Schutzhund and IPO training? Get this Bite Pad for that responsible aim! With this tool you will be able to improve your dog's biting abilities and his strength of grip in a funny playful way.
This dog bite pad has 2 flexible sides and strongly stitched handle. This shape allows you to make the training sessions varied and make your dog fulfill different commands.
Click on the pictures to see bigger image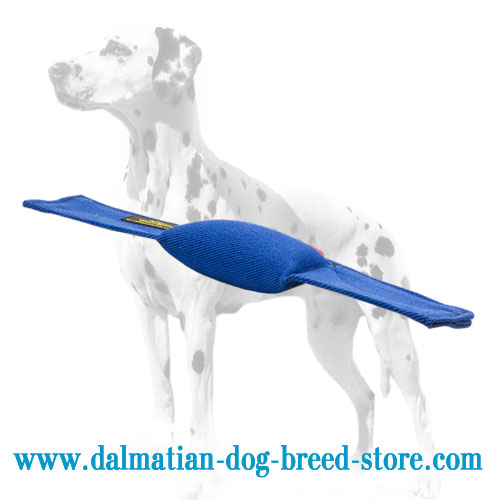 Dalmatian dog bite pad of French linen for biting and playtime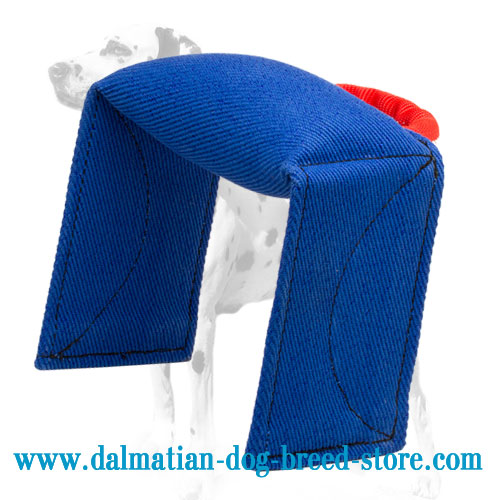 Dalmatian training bite pad with flexible sides and round handle
Key features of this Dalmatian Training Bite Pad:

durable materials
round handle
flexible sides
heavy-duty stitched
eco-friendly

Intended use of this Dalmatian Training Bite Tug:

biting skills development
retrieve item
young dogs training

Sizes:

5 1/5 inch x 21 1/2 inch (13 cm x 53 cm)

Material:
Due to the flexible sides of this bite pad, it can be shaped in a rectangular form that makes it possible to execute the commands like "For owss!", "Voraus!", "Go!" It can also be used as a usual bite pad to work out the dog's biting skills.
Being made of strong French linen, the product is long-servicing and safe for a dog's teeth. The stuffing is dog-friendly and doesn't have any toxicants, so your pet is surely protected from possible allergies. Convenient handle provides you with confident grip so that you could control the process of training in the best way.

NOTE! This dog training bite tug is not a chew toy!