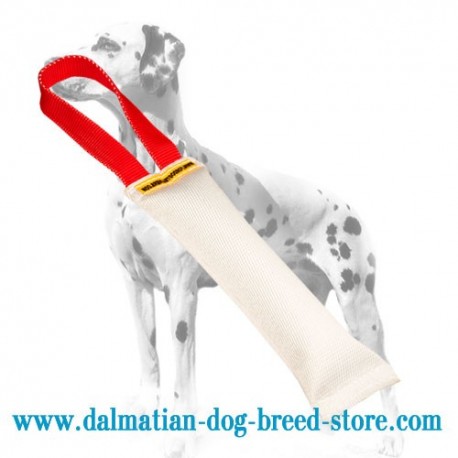 View larger
Extra Durable Fire Hose Dalmatian Dog Bite Tug With Handle
TE52#1045 Fire Hose Bite Tug(6x30cm) 1 handle
New product
In stock
Warning: Last items in stock!
Availability date: 01/01/2015
More info
Fire Hose Dog Bite Tug for Dalmatian Training
Are you in search of a special equipment to play with your dog? Believe us, this Bite Tug would be the best choice! The item won't tear or lose its shape after a long term of use due to the extremely durable material used for the exterior. Fire Hose is a high-pressure material that is used to carry water or other fire retardant to extinguish fire. It withstands even the highest pressure, so no wonder this material is an excellent choice for production of dog bite tugs.

You can take this tug for hard biting, retrieving, prey drive training, etc. – and be sure you will enjoy using it!
Click on the pictures to see bigger image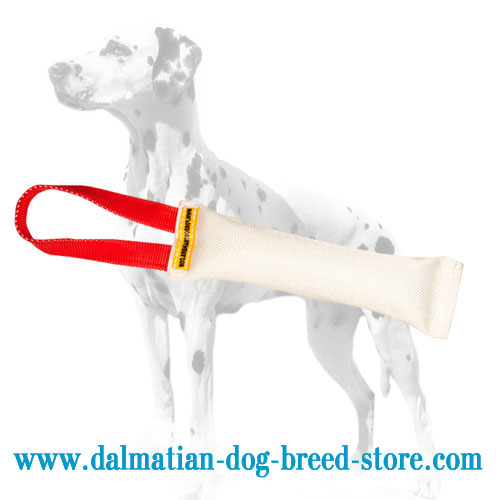 Young Dalmatian training bite tug made of fire hose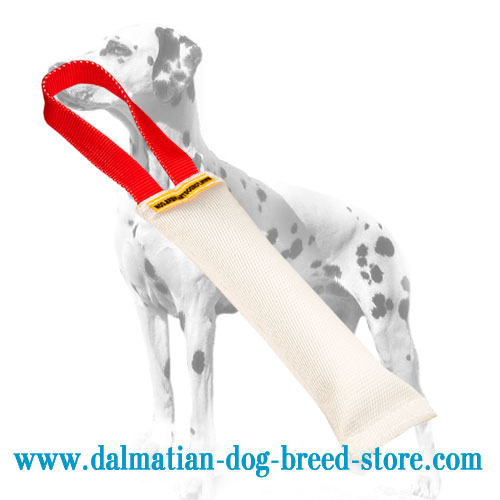 Dalmatian training bite tug of fire hose, extra strong and durable
Key features of this Dalmatian Training Bite Tug:

Durable materials
Nylon loop
Handmade
Heavy-duty stitched
Health-friendly
Easy to puncture

Intended use of this Dalmatian Training Bite Tug:

Biting skills development
Retrieve item
Young dogs training

Sizes:

Length - 12 inches (30 cm)
Width - 2 1/3 inch (6 cm)

Material:
What are the main advantages of this Dalmatian Training dog Bite Tug?

- This bite tug has solid surface that is lined with rubber from the inside. This makes the material very strong and easy for your dog to puncture. Therefore, it is safe for teeth and gums yet extremely durable to serve for years.
- Nylon handle is firmly stitched into the tug's body. This loop allows you to feel confident while training as you can hold the tug strongly and control the sessions.
- There are no harmful chemicals in the stuffing or surface. So your dog won't get stomach problems when biting it.
- The stuffing has no toxic elements and won't be dangerous for your dog's health.

NB! Dog bite tugs are not chewing toys!