Decorated Puppy Dog Harness for Dalmatian
Are you ready to show your little doggie the world around him? You'll need reliable and comfortable equipment for this aim! Little pups are very sensitive to the outside things that restrict their movements. They don't like the feeling of inconvenience and of heavy straps that bound their bodies. Thus, simple walking can be turned into real nuisance.

How to avoid that still having full control over your pet? The answer is – this perfect Best Controlling Dalmatian Puppy Dog Harness! Due to the soft leather kind and special inside padding, this item is so pleasant to wear that your puppy won't almost feel it on himself. So, give your dog a chance to discover the world in the most comfortable way!
Click on the pictures to see bigger image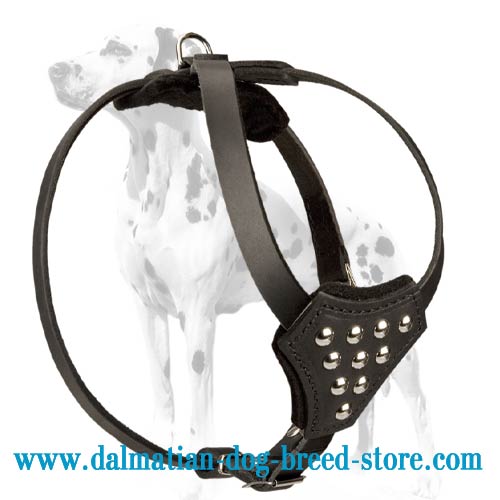 Leather dog harness for Dalmatians exclusively decorated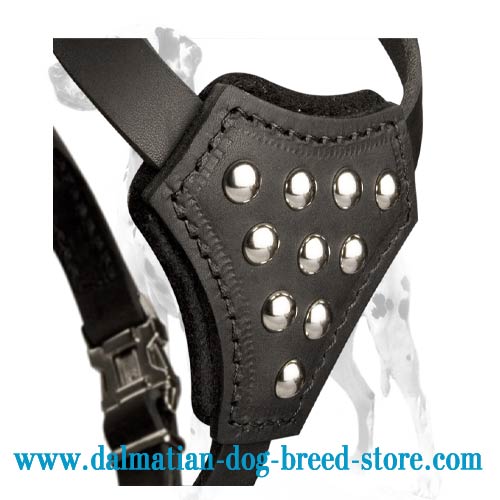 Dalmatian puppy harness, decorated chest plate
Key features of this Dalmatian Dog Harness:

100% dog friendly materials
Genuine leather
Nice design
Solid rustproof fittings
Multifunctional
Adjustable straps
Stitching at the edges
Quick-release buckle
Padded chest & back plates

Intended use of this Dalmatian Dog Harness:

Different kinds of training
Walking

Sizes available:

Available colors:
Let's learn the advantages of this Puppy Dog Harness:

- This dog harness is manufactured from 100% natural leather. The edges are stitched and riveted to provide the best strength and durability for years. No matter what your puppy does, wearing the item – it won't tear!

- Nickel-plated fittings and D-ring are corrosion-proof. They are stitched into the leather with nylon threads and won't fall out.

- The large D - ring is set in the center of the back plate allowing you to comfortably attach the leash in a few seconds.

- Felt padded from the inside, the harness is super convenient for wearing. Your dog won't get rubs when pulling the leash, thus he is free to move the way he wants.

- Amazing design with nickel-plated half-balls adds style to your pup's appearance.
Check how our products look on the dogs / Pictures from Customers
Click on the pictures to see bigger image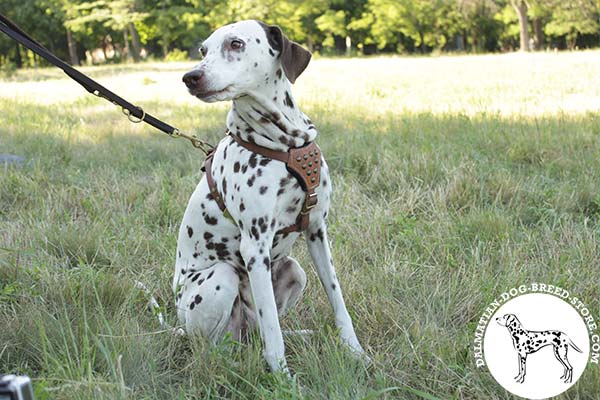 Showy leather Dalmatian harness with brass half-spheres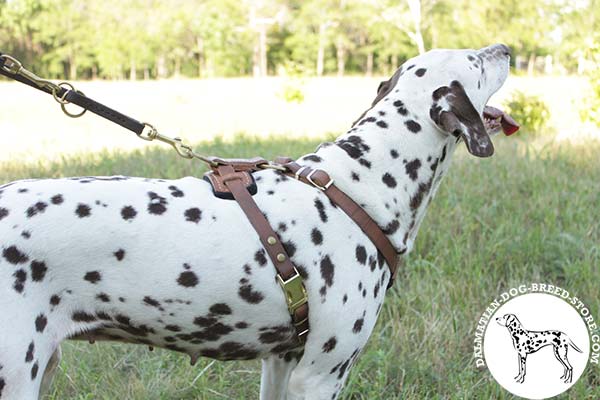 Walking leather Dalmatian harness with quick-release buckle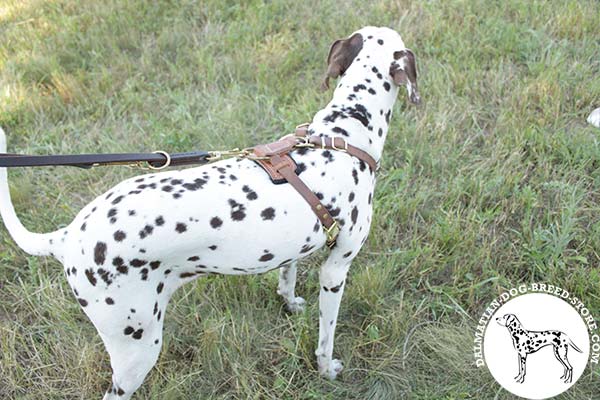 Awesome leather dog harness for Dalmatian with padded back plate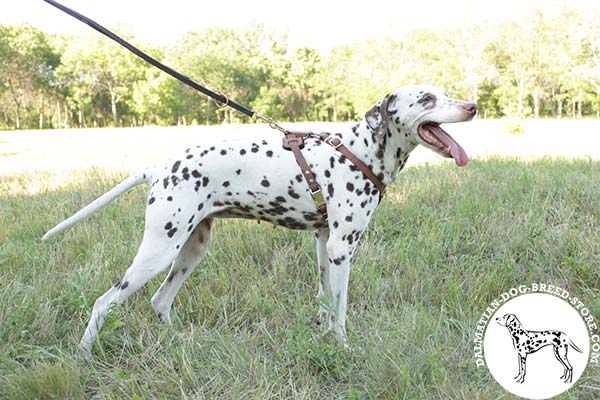 Walking leather canine harness for Dalmatian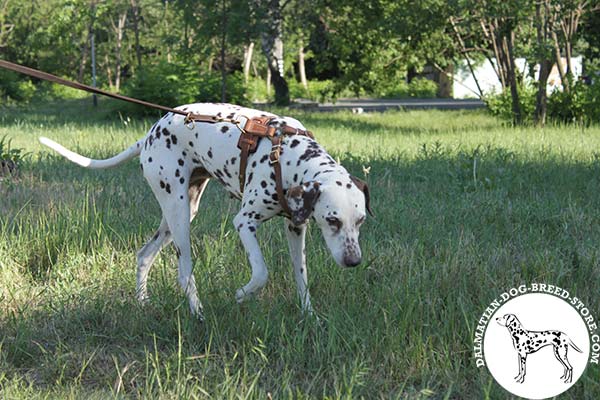 Leather canine harness for Dalmatian daily walks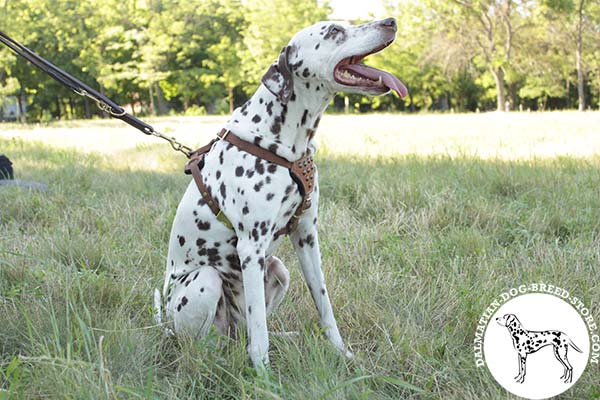 Dalmatian tan leather harness of high quality decorated with studs for safe walking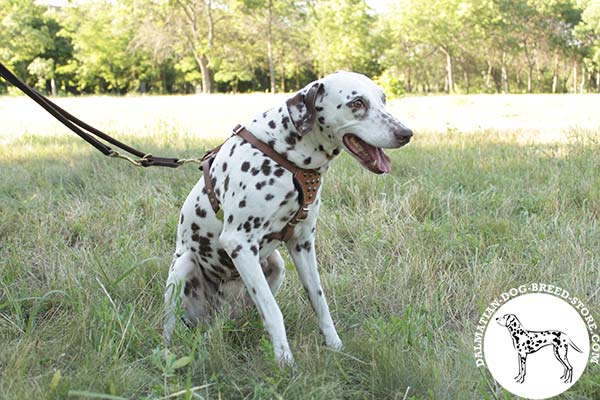 Dalmatian tan leather harness of genuine materials adorned with studs for walking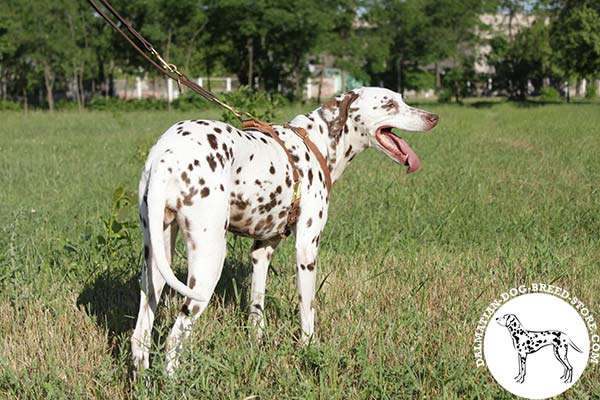 Dalmatian tan leather harness felt padded decorated with studs for stylish walks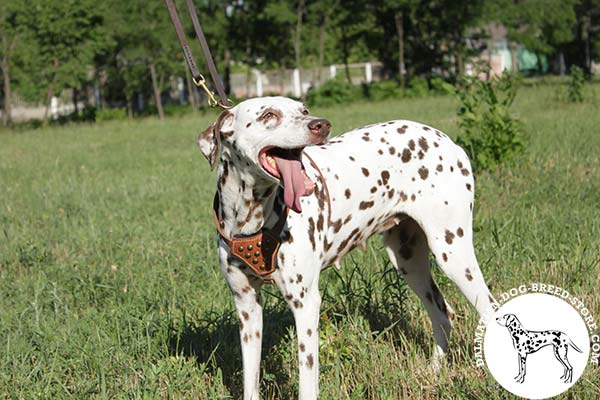 Dalmatian tan leather harness padded adorned with studs for daily activity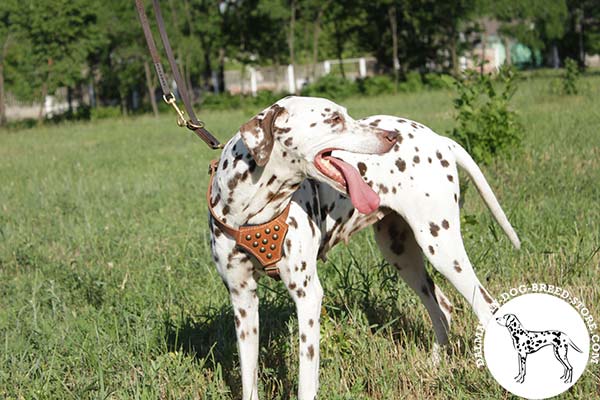 Dalmatian tan leather harness padded with felt decorated with studs for daily walks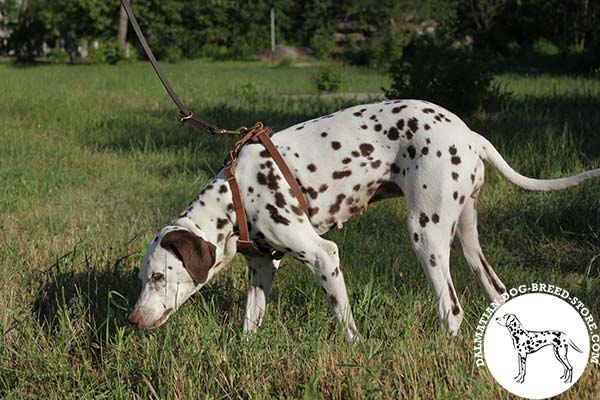 Dalmatian tan leather harness with chest padding adorned with studs for improved control