Exclusive Quality Puppy Dog Harness for Dalmatian
Is it difficult for you to make a choice among a great variety of harnesses? Make it clear for yourself that a proper harness should be strong, soft, padded from the inside, easily adjustable and – preferably – nice-looking. And all these features are combined in this Studded Dalmatian Puppy Dog Harness.

Made of genuine leather with thick felt padding on the chest and back plates, this harness is the best choice for controlling young dogs. Puppies are all extremely active and full of energy, and comfort for them is everything. Don't deprive your doggie of it!
Click on the pictures to see bigger image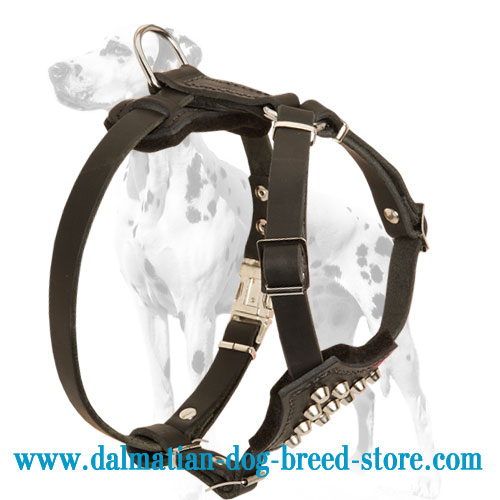 Dog harness for Dalmatian puppies made of soft leather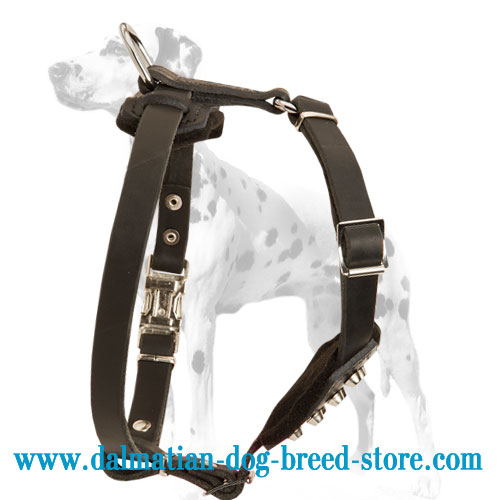 Dalmatian harness for puppies adorned with nickel-plated studs
Key features of this Dalmatian Dog Harness:

100% dog friendly materials
Genuine leather
Nice design
Solid rustproof fittings
Multifunctional
Adjustable straps
Stitching at the edges
Quick-release buckle
Padded chest & back plates

Intended use of this Dalmatian Dog Harness:

Different kinds of training
Walking

Sizes available:

Available colors:
This harness is a perfect compound of comfort and quality! The harness is eco-safe and extremely wear-proof as it is manufactured of full grain cowhide. It is resistant to weather conditions, very flexible, breathable and super strong. Thus, you can be sure the harness will serve you for many years.

Small riveted nickel-plated studs are set on the chest plate to make its exterior bright and stylish. It is not just a simple gear for dog controlling; it is also a great accessory for your beloved pet.

Due to the adjustable straps you can put the harness on your dog snug and comfortable. But you won't do it each time you get ready for walks or training: there is a special quick-release buckle for you to put the item on and off your pup in just no time.
Check how our products look on the dogs / Pictures from Customers
Click on the pictures to see bigger image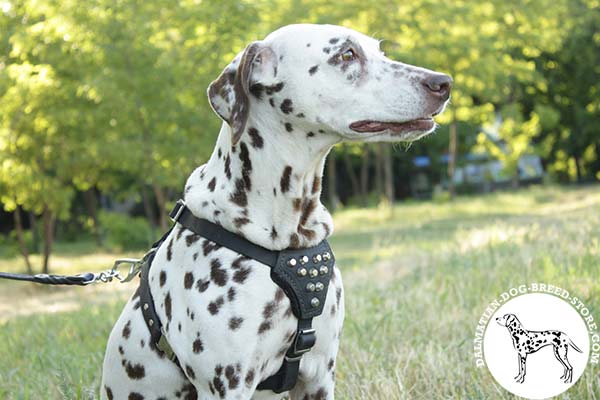 Showy leather canine harness for Dalmatian with pyramids on chest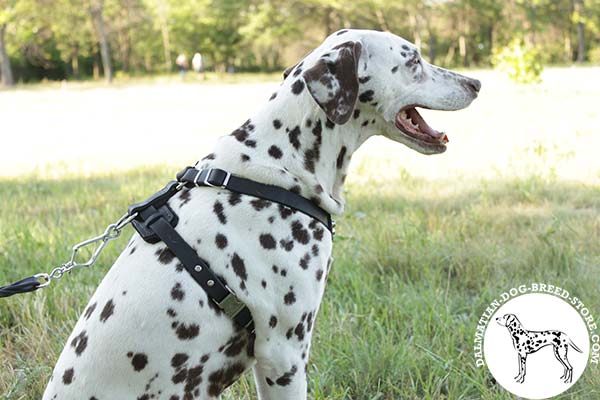 Chic leather canine harness for Dalmatian with quick release buckle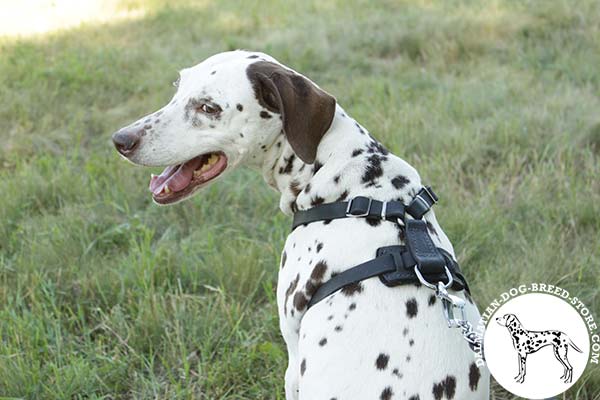 Walking leather Dalmatian harness with D-ring for leash attachment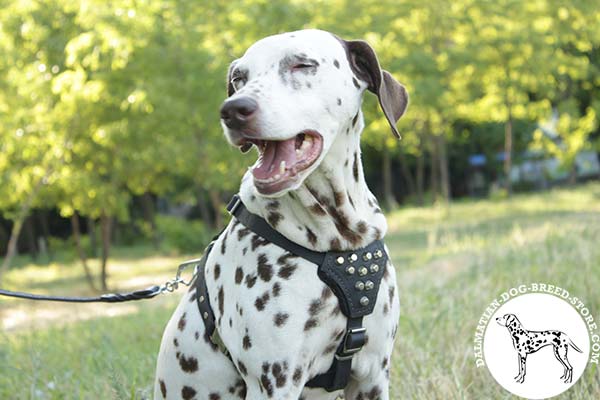 Dalmatian black leather harness with rust-proof fittings for professional use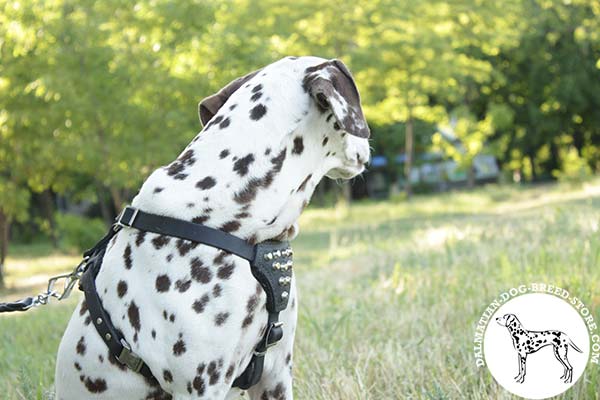 Dalmatian black leather harness with rust-resistant hardware for any activity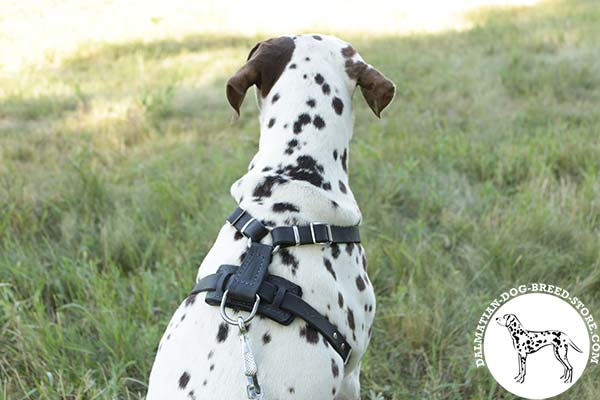 Dalmatian black leather harness with non-corrosive nickel plated hardware for perfect control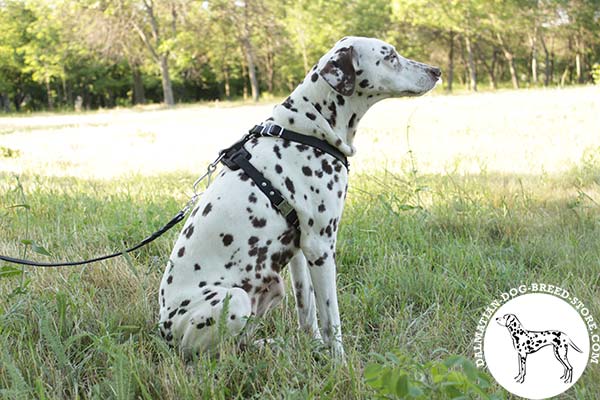 Dalmatian black leather harness with corrosion resistant nickel plated fittings for better comfort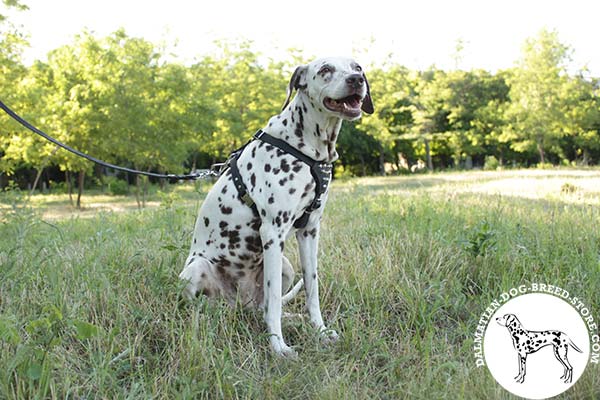 Dalmatian black leather harness with rustless hardware for agitation training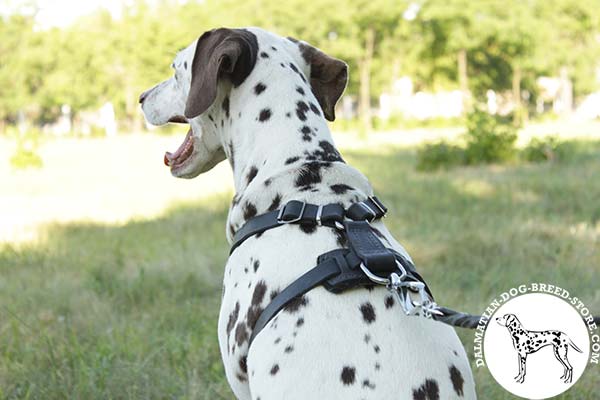 Dalmatian black leather harness with rust-free nickel plated hardware for walking in style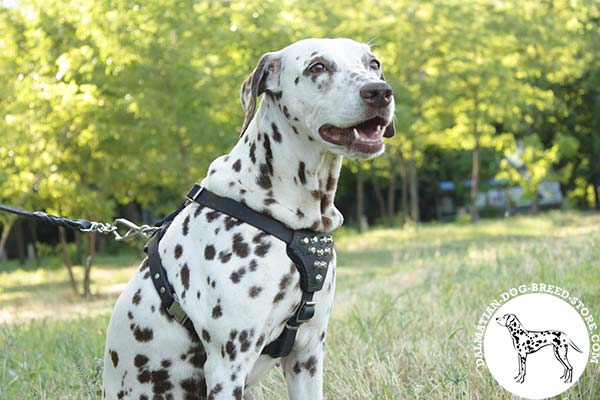 Dalmatian black leather harness with rust-proof hardware for utmost comfort