Super Resistant Nylon dog Harness Perfect for Any Weather Conditions for Dalmatian breed
Safe reliable dog harness for low price is possible if you shop at our on-line store. We try to meet demands of all our customers and to this end, we sell both low-budget but quality dog training products as well as luxurious ones. This page offers All weather Nylon Dalmatian harness for various activities. It is very handy dog harness that can be worn on daily basis during many years. Once you try this very harness on your dog you will fall in love with the product.
Click on the picture to see bigger image
Click on the pictures to see bigger image
Key features of this Dalmatian Harness:

light weight
strong & durable
all weather suitable
water resistant
2 ways adjustable
extra solid side rings for pulling
wide straps
easy quick release buckle
stay-in-control handle
reflective trim (option)

Intended use of this Dalmatian Harness:

easy tracking
effective obedience training
off leash training
safe comfy walking
pulling
quality exercising

Sizes available:

extra-extra-small
extra-small
small
medium
large
extra large

Available colors:
This Dalmatian nylon harness is Best-seller and here is why:

Low-maintenance training tool for years. You won't have to worry that after training or walking the dirt on the harness will remain. This won't happen because the harness is machine washable. No need to spend hours to clean it, all you have to do is to load it into washing machine, add detergent and set 40 degrees Celsius (104 F).

Durable strong material that is abrasion, water, mold, fungi, insects, and rot resistant. No special conditions are needed for storage. You buy this harness for ever.

Your dog will be able to enjoy tracking, training, walking, pulling with the harness on. It offers quality comfort for a dog and necessary control over a pet to an owner. You can control and restrain your dog with easy-grip handle or a dog leash that can be attached to a special D-ring.
Check how our products look on the dogs/ Pictures from Customers
Click on the pictures to see bigger image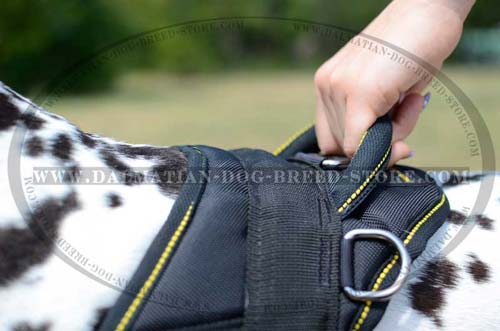 Dalmatian breed all weather suitable nylon dog harness for pulling and training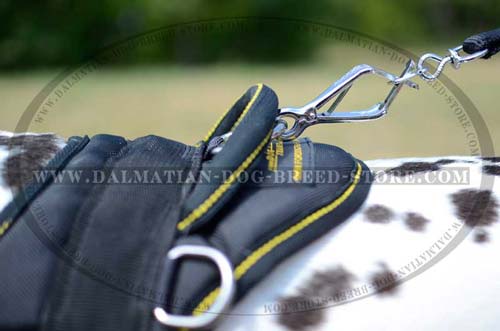 Dalmatian loves being trained with this nylon dog harness
Click on the pictures to see bigger image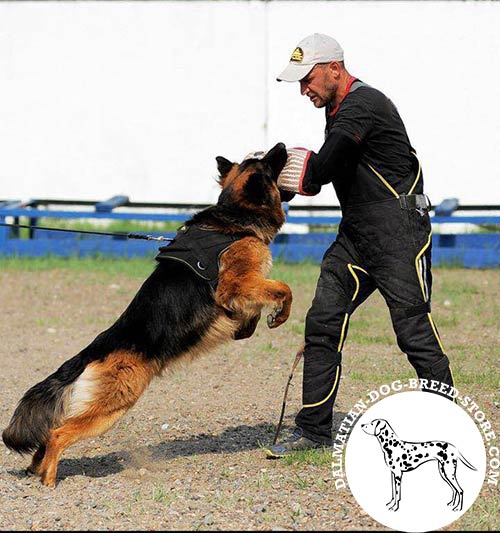 Nylon dog harness for outdoor training