More info
Incredibly Stylish Dog Collar for Dalmatian
Would you like to provide your dog with the best equipment only? Then you will definitely need a collar of proper quality to protect him / her from possible allergies, skin rubbing or inconvenience. And the collar offered on this page meets exactly these demands.

Aside from the quality and comfort, this item looks super stylish, accentuating upon your Dalmatian's natural grace and nobility. Superb design with the use of brass circles and half-balls look gorgeous on the leather strap. All you need is to choose the color! If you need more details about this dog item, welcome to read below!
Click on the pictures to see bigger image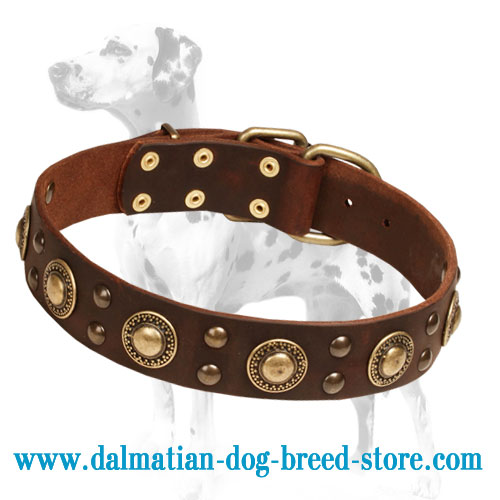 Dog collar of genuine leather with riveted decorations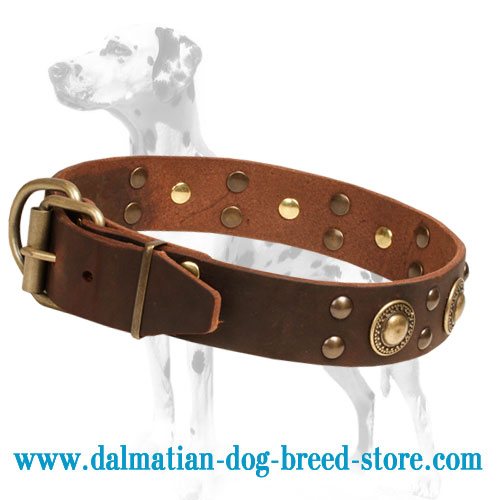 Dalmatian collar of excellent quality
Key features of this Dalmatian Dog Collar:

100% dog friendly materials
Genuine leather
Exclusive design
Hand riveted fittings
Rustproof buckle and D-ring
Multifunctional

Intended use of this Dalmatian Dog Collar:

Obedience training
Walking

Sizes available:

Available colors:
How to measure your Dalmatian for good fit Collar:

Please be advised that:
For buckle collar when you specify neck size we will make collar fit on central hole.
There will be total of 5 holes and distance between each 2 holes is 1 inch (25 mm).
For example: your dogs neck size is 20 inches (50 cm). Collar will fit on central hole at 20 inches (50 cm).
There will be 2 smaller size holes - 18 inch (45 cm) and 19 inch (47.5 cm).
There will be 2 bigger size holes - 21 inch (52.5 cm) and 22 inch (55 cm).
There will also be tip of the collar after last hole about 2 inch long (5 cm).
Those are handcrafted collars and some sizes will differ a little (not in significant way).
2 ply leather collars and padded leather collars are 1 inch bigger to make sure that it will fit your dog.
Outstanding quality: this dog collar is manufactured of 100% genuine leather. It is unbelievably wear proof and becomes even softer with time. If you take care of the material property (which includes the use of leather conditioners and sprays), you will be impressed by how long the collar serves.

Supreme comfort: you can use this collar on daily basis, both for walking and training. The product's edges are waxed and smoothed to protect your dog from rubbing and irritation. Moreover, the collar's width is the most recommended by dog experts, as it doesn't cause "cutting effect" when you pet pulls the leash.

Amazing design: decorated with brass circles and half-ball studs, the collar looks extremely stylish. These decorations are fixed with rivets to prevent their falling out. Moreover, brass is super rust proof, so be sure the collar will look bright for a great while.