Ultra-Strong Dog Collar for Dalmatian with Nice Adornment
Do you want to stress upon your Dalmatian's natural beauty? There is nothing better than this Exclusive Dog collar to do it! Vintage style has always been the number one among all the fashion-mongers. So why not to use this style in dog collars?

This handmade dog collar is probably the best tool for convenient dog handling and training. Perfect width, that won't cause "cutting effect", soft leather kind, smoother inside surface – all these are combined to provide your dog with comfort. Remember that comfort is everything for successful training: if your dog doesn't feel irritation, all his attention will be focused on the job to execute.
Click on the pictures to see bigger image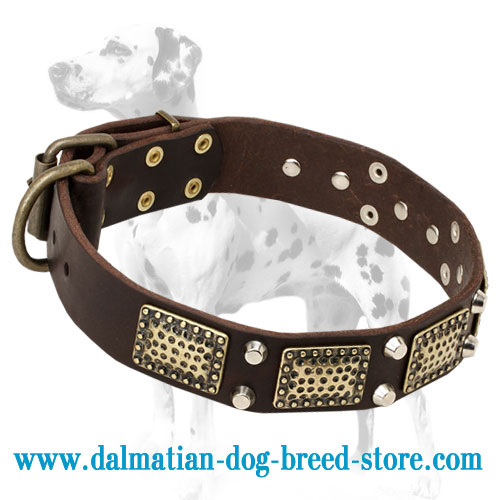 Dog collar of genuine leather with massive decorative plates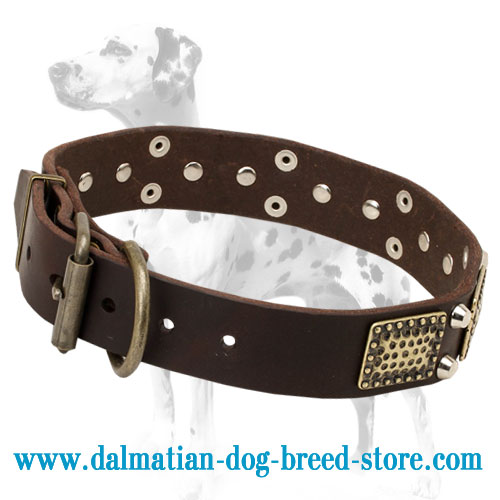 Dalmatian dog collar, smoothed surface and rustproog fittings
Key features of this Dalmatian Dog Collar:

100% dog friendly materials
Genuine leather
Exclusive design
Hand riveted fittings
Rustproof buckle and D-ring
Multifunctional

Intended use of this Dalmatian Dog Collar:

Obedience training
Walking

Sizes available:

10 sizes available
1 1/2 inch wide

Available colors:
How to measure your Dalmatian for good fit Collar:

Please be advised that:
For buckle collar when you specify neck size we will make collar fit on central hole.
There will be total of 5 holes and distance between each 2 holes is 1 inch (25 mm).
For example: your dogs neck size is 20 inches (50 cm). Collar will fit on central hole at 20 inches (50 cm).
There will be 2 smaller size holes - 18 inch (45 cm) and 19 inch (47.5 cm).
There will be 2 bigger size holes - 21 inch (52.5 cm) and 22 inch (55 cm).
There will also be tip of the collar after last hole about 2 inch long (5 cm).
Those are handcrafted collars and some sizes will differ a little (not in significant way).
2 ply leather collars and padded leather collars are 1 inch bigger to make sure that it will fit your dog.
Only full grain genuine leather is used for manufacturing of this collar. This means this item is super strong, durable and unbelievably soft. Genuine leather is flexible and takes the shape of a dog's neck in the best way. Thus, comfort and long service life are guaranteed.

Massive brass plates and nickel-plated pyramids are set on the sturdy leather and fixed with rivets not to fall out. Brass looks incredibly luxurious due to its golden color. It's easy to mix it up with real gold, isn't it? It is almost impossible to find something comparable with this collar, so don't hesitate to praise your doggie with such a stylish accessory!
Check how our products look on the dogs / Pictures from Customers
Click on the pictures to see bigger image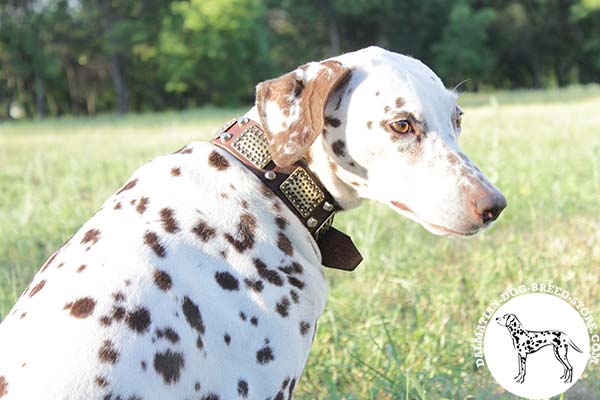 Amazing leather dog collar for Dalmatian with plates and pyramids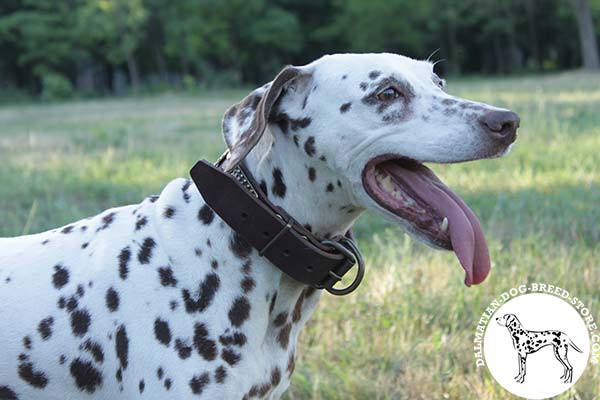 Leather dog collar for Dalmatian with brass buckle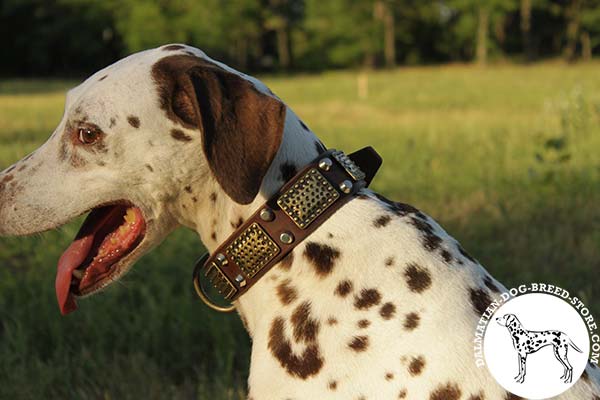 Leather Dalmatian collar with brass covered plates and pyramids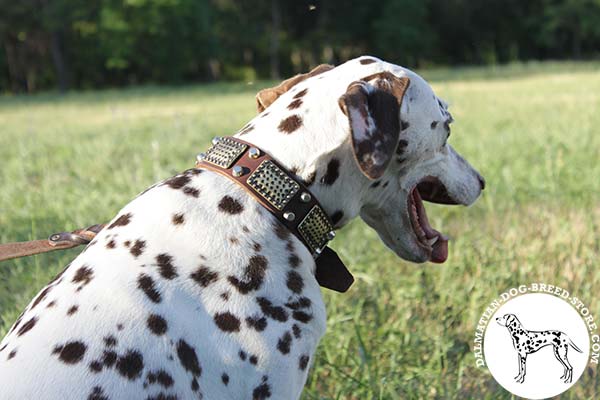 Dalmatian brown leather collar with strong hardware for any activity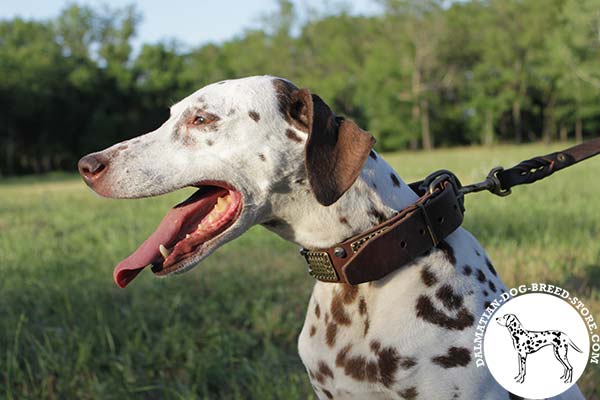 Dalmatian leather collar of high quality brass plated hardware for quality control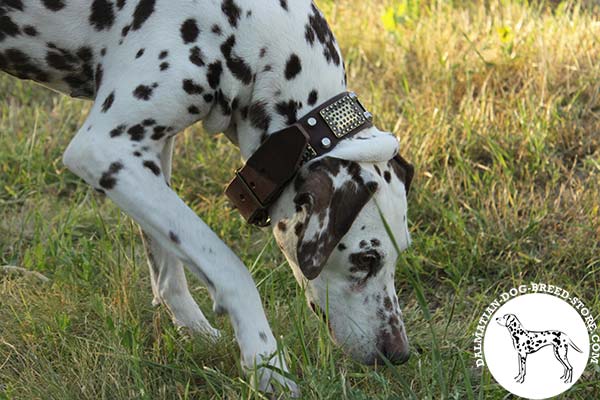 Dalmatian brown leather collar with duly riveted brass plated fittings for improved control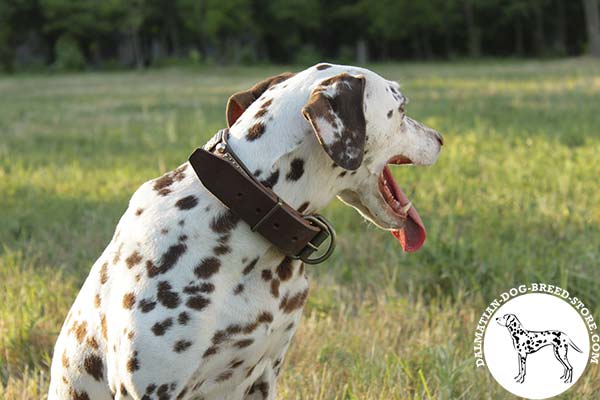 Dalmatian leather collar adjustable with riveted studs for daily walks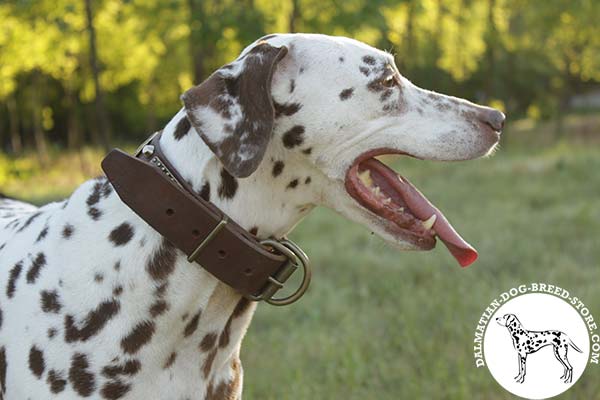 Dalmatian brown leather collar with strong brass plated hardware for daily activity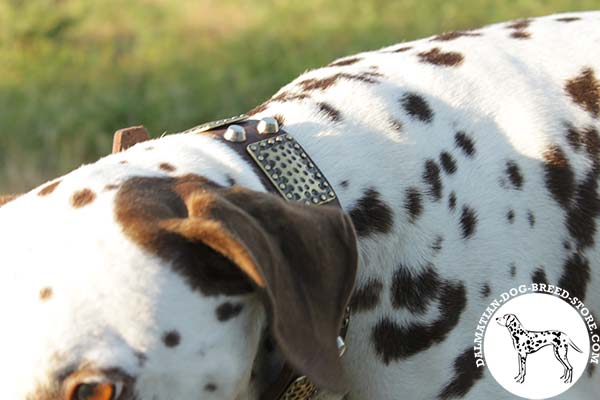 Dalmatian leather collar adjustable with handset decoration for stylish walks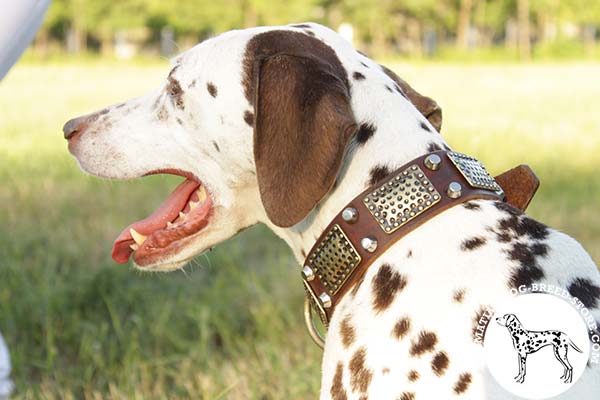 Dalmatian brown leather collar with duly riveted with handset adornment for walking