More info
Stylish Leather Dog Collar for Dalmatian with Nickel Plates
Are you a person who hates everything ordinary and boring-looking? Do you want to get a bright and stylish collar for your beloved canine? Then welcome to consider the one presented here!

This is a collar for daily use, which features such great characteristics like durability, practicability, multifunctionality and – of course – amazing exterior! Decorated with warlike massive plates and studs, the collar deserves the highest appreciation! Nickel looks like silver, and shines brightly in the sun.

Aside from amazing design, the collar has a lot of other advantages, and you are welcome to learn them below.
Click on the pictures to see bigger image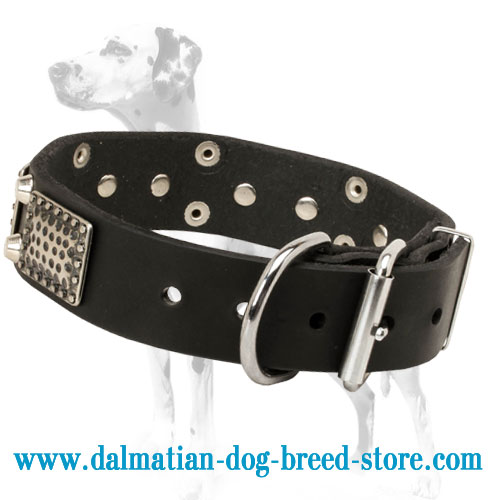 Dog collar of full-grain leather with massive decorations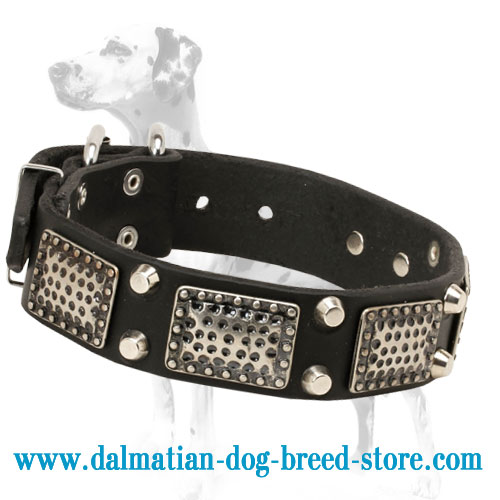 Dalmatian dog collar, vintage style
Key features of this Dalmatian Dog Collar:

100% dog friendly materials
Genuine leather
Exclusive design
Hand riveted fittings
Rustproof buckle and D-ring
Multifunctional

Intended use of this Dalmatian Dog Collar:

Obedience training
Walking

Sizes available:

10 sizes available
1 1/2 inch wide

Available colors:
How to measure your Dalmatian for good fit Collar:

Please be advised that:
For buckle collar when you specify neck size we will make collar fit on central hole.
There will be total of 5 holes and distance between each 2 holes is 1 inch (25 mm).
For example: your dogs neck size is 20 inches (50 cm). Collar will fit on central hole at 20 inches (50 cm).
There will be 2 smaller size holes - 18 inch (45 cm) and 19 inch (47.5 cm).
There will be 2 bigger size holes - 21 inch (52.5 cm) and 22 inch (55 cm).
There will also be tip of the collar after last hole about 2 inch long (5 cm).
Those are handcrafted collars and some sizes will differ a little (not in significant way).
2 ply leather collars and padded leather collars are 1 inch bigger to make sure that it will fit your dog.
This collar is more than just a dog controlling gear. It is an excellent accessory which brings comfort and safety to a dog. The basic material of this item is full grain cowhide, well-known for everybody by its strength, softness and wear-resistance.

The leather is totally eco-friendly and cannot cause any health problems in your dog. Smoothed from the inside, this collar won't damage the fur and won't cause rubbing. Moreover, as it is perfectly wide (1 ½ inch), the collar's edges won't cut into the skin when the pet is pulling hard.

Massive hardware is made of nickel-plated steel which is strong, break proof and corrosion resistant. Even the decorative elements, along with the buckle and D-ring are hand fixed with rivets. This protects the fittings from undesirable falling out.

This collar is both functional and fashionable. Why should you give way to one advantage in favor of another! Choose only 2-in-1 products! And this gear is its excellent example!