More info
Walking Dog Collar for Dalmatian with Punched Flowers
Do you want to enjoy the look of your doggie when walking? Then check our novelty - this New Leather Dog Collar which will definitely bring Spring mood!

The collar is adorned with punched flowers. Classy, stylish, neat and ultra-comfortable - it's all about this dog walking gear! Don't miss an opportunity to make your daily walking brighter and your Dalmatian's look outstanding.
Click on the pictures to see bigger image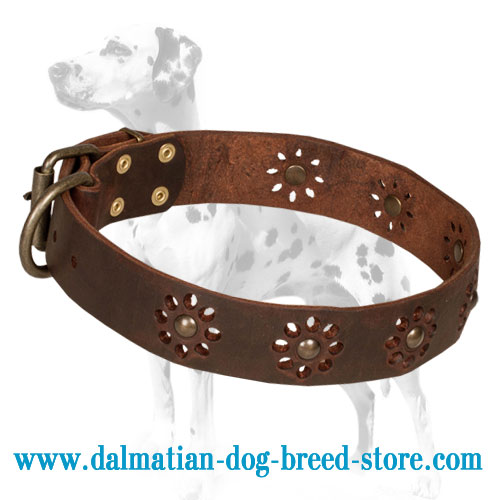 Dalmatian dog collar, riveted decorations (brown)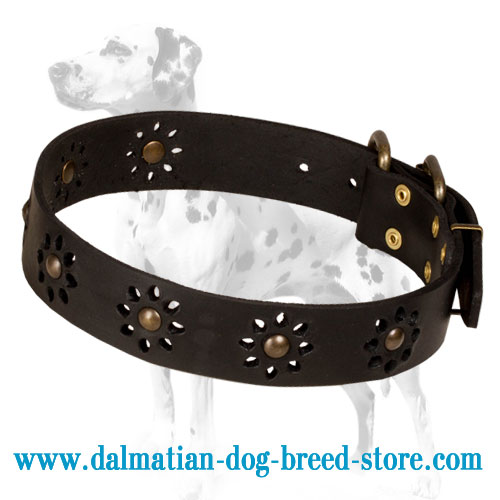 Leather dog collar for Dalmatian breed, easy adjustment
Key features of this Dalmatian Dog Collar:

Made of genuine leather
Flower punching
Smoothed edges
D-ring for the leash attachment
Adjustable in 5 ways
Reliable buckle

Intended use of this Dalmatian Dog Collar:

Sizes available:

Available colors:
How to measure your Dalmatian for good fit Collar:

Please be advised that:
For buckle collar when you specify neck size we will make collar fit on central hole.
There will be total of 5 holes and distance between each 2 holes is 1 inch (25 mm).
For example: your dogs neck size is 20 inches (50 cm). Collar will fit on central hole at 20 inches (50 cm).
There will be 2 smaller size holes - 18 inch (45 cm) and 19 inch (47.5 cm).
There will be 2 bigger size holes - 21 inch (52.5 cm) and 22 inch (55 cm).
There will also be tip of the collar after last hole about 2 inch long (5 cm).
Those are handcrafted collars and some sizes will differ a little (not in significant way).
2 ply leather collars and padded leather collars are 1 inch bigger to make sure that it will fit your dog.
This collar is surely worth your attention because:
The item is handmade. Each decorative flower petal is punched carefully by a gifted designer with true love to his job. The collar looks beautiful and really unusual.

Pure selected leather is the material this collar is made of. It is eco-safe and non-allergic, and also features great strength and softness. The product is completely tear-proof and very comfortable.

The collar is decorated with tiny brass studs, set into the leather strap, and they serve as the flowers' core. This design reminds about warm & sunny spring days and definitely makes the mood better even in foggy and rainy weather. By the way, brass alloy is rustproof and won't lose its brightness for years.