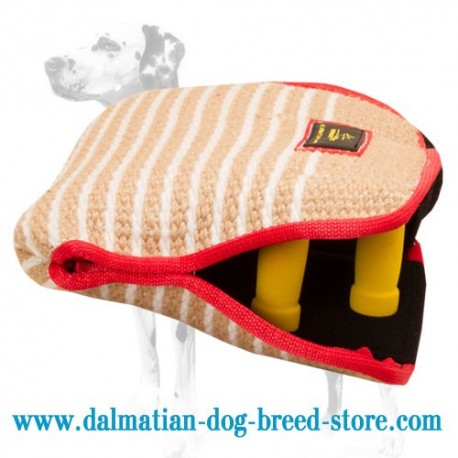 View larger
Dalmatian Dog Bite Builder for Successful Training
PBB5J1045 Young Dog Bite Builder made of Jute
New product
In stock
Warning: Last items in stock!
Availability date: 01/01/2015
More info
Dog Grip Builder for Advanced Dalmatian Training
Looking for a reliable canine equipment to train properly your Dalmatian? The presented item will be a perfet choice! This products is a 2-in-1 item for efficient dog training: it is both bite sleeve and a bite builder combined together! A lot of trainers all over the word have highly valued this dog supply. Each detail here is well-thought by the leading manufacturer to provide you with comfort and your dog with safeness.
Click on the pictures to see bigger image
Click on the pictures to see bigger image
Key features of this Dalmatian Training Bite Developer:

Soft, non-toxic material
100% dog safe
Extra durable surface
2 padded handles
Convenient bite grip angle

Intended use of this Dalmatian Training Bite Developer:

Advanced bite training
Full bite grip building
Better position grip building
Stronger grip development
It is very important to buy a quality dog supply which will serve for many years. This Jute Dog Bite Builder is made for lifetime use, of course if used properly. Moreover, the item has some more advantages for you to be 100% satisffied with the purchase:

1. Jute material. It is considered to be health-safe, soft for gums and durable. So your dog's oral cavity won't get injured while training with this dog gear. Also, absence of toxicants guarantee your dog won't get allergies.

2. Ergonomic design. This dog supply is equipped with 2 padded sturdy handles. with their help you can hold the item firmly when training your pet and thus get better control over the training process. Well-thought design allows you to use this item both as a bite sleeve and as a bite developer.

3. Extended field of use. This Reliable Dog Bite Sleeve is suitable for bite training as well as for building stronger grip. And also it will help to develop your dog's hunting and protective instincts making him/her ready for future police, military or IPO traiing.